Thriving in the Spotlight: Brothers with Autism Excel at School and at Home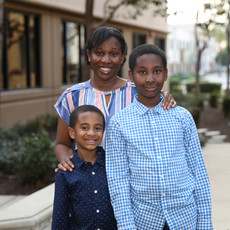 Before brothers Evan, 10, and Ethan, 7, started Autism Therapy at Easterseals Southern California, their mom, April, never imagined she would one day see her sons participate in activities like performing on stage, modeling, and playing team sports.
It's not that April didn't think they could do it; in fact, she was their biggest cheerleader and advocate. But when she first started on this journey with her boys' autism diagnoses, her primary focus was making sure they could interact with their peers, make friends, and succeed in a classroom.
"I never expected all of this," said April. "I just wanted Ethan to run and jump, and I wanted Evan to have conversations with his peers. I wanted them to go to school and get good grades…but these boys are ready to run right into life."
When Evan and Ethan started the Easterseals' Autism Therapy program, April and her husband were immediately impressed by how the clinicians involved them in every step of the therapy process while providing education on various techniques and tools.
"My older son Evan received Applied Behavioral Analysis (ABA) therapy and speech therapy," said April. "Ethan received ABA, physical therapy, occupational therapy, and speech. The ABA was done as a team, and they always told me I was a part of the team."
April says that it didn't take long for Easterseals to feel like family. The therapists would come to their home multiple times a week to play games with the boys as a way to teach them new skills and give April the tools she needed to incorporate the therapies into their everyday life.
One of the Easterseals therapists they worked with was Clinical Program Manager Sarah Anderson. Sarah says that the parents' involvement in the therapy sessions and their willingness to ask questions was instrumental to the boys' success.
"The beautiful thing about it was hearing April report on how Evan used these skills in everyday life," said Sarah. "That's how important family participation is to therapy success. It helps your child thrive and is more applicable to the way people live. His parents did a great job of practicing these skills outside of sessions, which will help them thrive as they grow older and as individuals so they can be more independent."
It's been several years since Evan and Ethan graduated from the Easterseals' Autism Services, and they are now thriving in school, at home, and are participating in multiple extracurricular activities. Evan is currently enrolled in a Broadway acting program where he performs on stage, Ethan was recently signed to a talent agency for commercial modeling, and both boys are playing basketball. Their success in these activities is a direct result of the skills they learned in therapy, like sharing, taking turns, attending, and tolerating losing.
"My kids have both engaged in entertainment," said April. "Evan is on stage, and he is actually gaining more skills. He's using a lot of what he learned from Easterseals in the Broadway program. And so is Ethan; he can direct his attention to the camera for modeling. To me, 'Easterseals' means a new outlook on life; that things can change for the better. I don't care if they don't become successful as entertainers. I just want them to go to college and have the American dream, and I know that they can have that dream."