Meet Bianca: Best Friend to All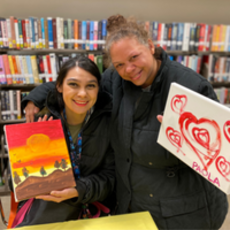 Whether Bianca is in line at a coffee shop or volunteering at the food bank, she enjoys striking up conversations with everyone. Bianca wasn't always this way. Before joining Easterseals Adult Day Services (ADS) program in San Diego, Bianca was not very social and says she spent a lot of time at home.
After experiencing challenges throughout her childhood and teen years, Bianca struggled to trust people. Her coaches and friends at Easterseals helped rebuild that trust and her confidence. Over the years, they have watched Bianca come out of her shell and make real, lasting friendships with her peers.
"When I started working with her, she was often defensive when someone would approach her," said Life Skills Coach Diana Ahuatzi. "But her behavior has completely changed. She's incredibly positive, she loves to talk and laugh. She is much more social and more comfortable with people."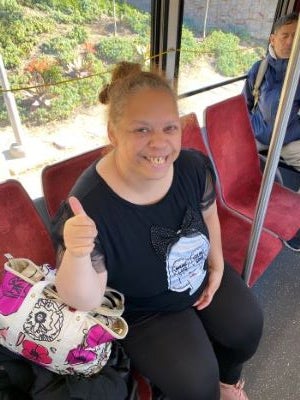 Now, Bianca is the first to tell you that she loves to talk and meet new people. When asked what she enjoys most about coming to the Easterseals ADS program, she says, "Talking to my coaches and my friends. They are all my best friends and they support me and help me to be happy. I'd rather be out than staying home and being depressed. That's how it was for me when I was home, I would just be angry. Now I am out and about, and I can do what I want."
Bianca also enjoys helping people and volunteering at places like the local food bank and museums, and this year, one of her goals is to find a job with the help of her coaches.
"She loves to help people," said Diana. "When we're volunteering at the second-hand store, for example, if a customer is looking for something, she will help them find what they're looking for. And at the food bank when we hand out food, she really enjoys smiling and saying, 'thank you for coming.'"
Bianca added, "I just like to work, and I like to help out. I'm trying to get a job and I want to get a job."
While Bianca has had a difficult past, she doesn't let that get in the way of living life to the fullest, being a positive light for others, and pursuing her goals. Easterseals' person-centered ADS program has empowered her to make choices about the way she wants to spend her day and gives her the space to create meaningful and healthy friendships.
"The coaches make me happy every day," said Bianca."My coach is my best friend and she's always encouraging me and saying, 'you can do it.' She's not forcing me, she's helping me, and that's different."