Jerry Explores and Engages In the Social Issues of 2020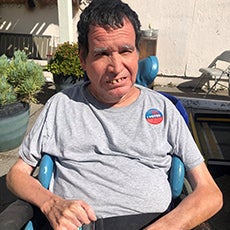 In early March, Jerry enthusiastically joined fellow Adult Day Services (ADS) participants in the primary election process. He wore his "I voted" sticker and beamed with pride. His program director, Angela, encouraged his passion and participation in the election process. "The individuals who Easterseals supports will not be left out of the conversation," she said.

While concerns about COVID-19 prevented Jerry from joining the crowds at Black Lives Matter protests at the end of May, he did create a peace sign to express his support for the movement. His eyes remained glued to television news programs for several hours each day, fascinated by the images of the protests and the presence of the National Guard. He even preferred to watch the latest news coverage rather than his favorite Elvis documentaries.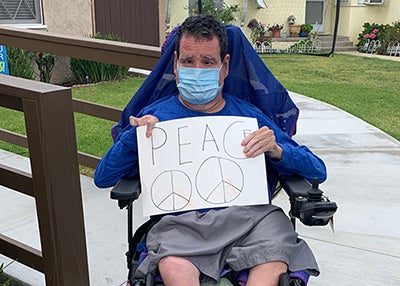 During daily teleservice video calls with his Easterseals Life Skills Coach Shwannah, Jerry wanted to talk constantly about the protests and they discussed the latest developments and the meaning of it all. As time moved forward, they transitioned to talking about the "new normal" involving masks and the need for social distancing. Jerry was anxious to return to in-person day services at Easterseals, but Shwannah explained that she and everyone else from Easterseals was at home and would be providing teleservices to Jerry and other ADS participants.

Beyond discussing current issues, the two also enjoy sharing music and singing together during their daily teleservice video chats. Jerry expresses his knowledge and appreciation for songs by Elvis, Bing Crosby and Dean Martin and Shwannah has introduced Jerry to the fun of Jack Jones signing the "Love Boat" theme song.

As Jerry waits for his opportunity to cast his vote again in the November general election, his Life Skills Coach Shwannah reflects on what she has learned working for Easterseals ADS and with Jerry specifically.

"He has made me look at life differently by sharing his belief that, 'we should all be peaceful and be able to get along.'" She adds, "Since working with Jerry, I've had a broader look at situations and avenues of life that people have. I'm more sensitive to people in general and realize many of the things we take for granted we should be more appreciative of and thankful for."