The Story of Alycia, Janna and Dori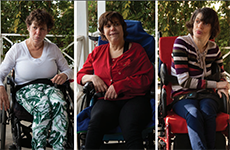 Alycia, Janna and Dori are sisters who have lived almost all of their lives in institutions and not necessarily together. Today all the sisters enjoy community-based living in an Easterseals residential home, one of the services provided by our Living Options.
Residential homes are in local communities with each person having their own room and being able to make their own choices. For several years Alycia has lived in a residential home designed for individuals moving from many years of living in developmental centers. Her sisters Janna and Dori were still residing in a nursing home type setting.
"When I saw the wonderful home and quality of care Alycia received from Easterseals staff, I really wanted my other daughters to move into an Easterseals home," their mom Iris said. In 2017 Iris' wish was fulfilled. Janna and Dori moved into an Easterseals home, not too far away from their sister. Their home is the first specifically established for individuals requiring specialized medical care after living many years in a nursing home type setting.
Today the sisters can visit each other regularly and their mom is able to spend time with all three of her daughters together.
Learn more about our Living Options services.