A Bigger Home Means a Better Life for Matt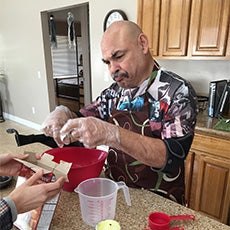 Matthew (Matt) was referred to Easterseals Living Options because he needed a home with more room for his wheelchair. As he entered middle age, Matt's cerebral palsy made it increasingly difficult for him to move around by himself, even with support from his walker. More frequent falls made it clear that the time had come to find a bigger residence and, as luck would have it, Easterseals was due to open a new residential home in Pasadena that was also closer to his family!
"Matt was so excited, he made his decision to move in during his first tour of the home," said Easterseals Living Options District Manager Nicole Snyder. "He immediately claimed the room set off by itself down a hallway as his bedroom and noted the nearby bathroom would be his as well." After officially moving in a few weeks later he began personalizing his room with his artwork on the walls, a drawing table from his family, and colored pencils so he could continue working on his drawings.
Thanks to the larger size of the house, Matt is able to navigate around with ease without fear of accidents or injuries. He enjoys working in the kitchen using the adaptive chef's knives and cutting board provided and, thanks to a special raised garden bed in the backyard, he can work the soil right from his wheelchair. When asked to name his favorite thing about living in the house, Matt replied that he likes going out in the community, playing board games with the staff, baking cookies and cupcakes, going to the library and the fact that everyone celebrated his birthday with a cake.
For Matt, going bigger definitely made it better when it came to living in his new home.
Learn more about our Living Options Services here.