A Marine Corps Veteran's Path to Meaningful Employment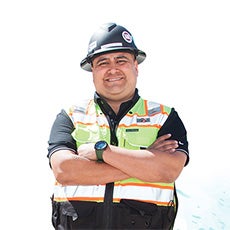 A 12-year Marine Corps veteran who completed six tours of duty as a radio operator in Iraq, three of them in heavy combat, Eduardo ("Eddie") knows how to get things done. But when the Texas native finished his service as a Sergeant at Camp Pendleton, not everything proceeded smoothly as he transitioned back into civilian life.
Recalls the married father of four, "I was back in college studying for my degree and applied at police departments across Southern California, but I couldn't land a job…not at Ralph's, Target, McDonald's…nothing."
Eddie knew about OSHA (Occupational Safety and Health Administration) courses from a job he'd gotten as a dispatcher but couldn't afford them until he heard about a "No Cost OSHA 10 Safety Course for Veterans" where he met instructor Russell Levy, an Employment Specialist with Easterseals's Bob Hope Veterans Program.
Following additional no-cost training at Camp Pendleton, Easterseals helped him qualify for state funds to attend the OSHA Training Institute at Cal State University, Dominguez Hills, where he earned multiple safety certifications.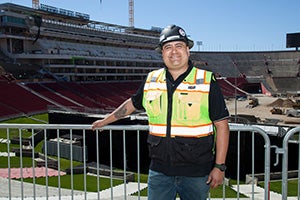 "Easterseals helped direct me on the path I needed to go and offered me the resources to be able to do it," he shares. "I was struggling fi nancially and would never have been able to pay for those classes. They helped me build a career that I had never dreamed of and I love it. My wife told me she has never seen me so happy."
Today he is employed as a Construction Safety Manager. Additionally, he teaches Safety courses and is completing his A.A. degree with plans to transfer to a Cal State University to get his B.A.
"I've been blessed and Easterseals helped me do it."
Learn more about our Bob Hope Veterans Support Program and information about Easterseals other services.