For Immediate Release
Baker's Drive-Thru Round-Up Campaign Raises More Than $150K!
Inland Empire, Calif, December 17, 2020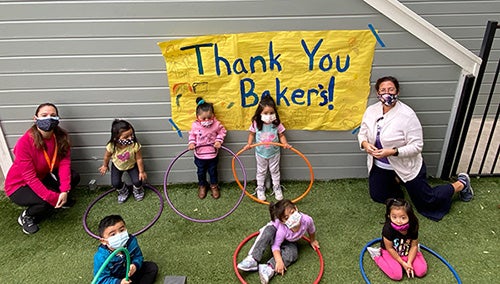 Thank you to Baker's Drive Thru and everyone who participated in the 2020 Small Actions Create Big Changes Round-Up Campaign, and rounded up their bill to the nearest dollar!
Your efforts raised over $150K -- dollars critical in ensuring that we can continue our weekly food distributions to our IE families, provide access to virtual services through innovative technology, and even find jobs for our IE veterans.
Over the past 32 years, the Baker's Drive-Thru annual Halloween fundraiser has raised over $5 million in support of ESSC services for the Inland Empire, and your ongoing support helps us make profound positive differences in our participants' lives every day.
We are genuinely appreciative and continue to be humbled by your outpouring of generosity year after year.
Learn about more ways that you can support Easterseals in 2021!