For Immediate Release
Southern California Landmarks Lit Up Orange As Part of National Commemoration of Easterseals' 100th Anniversary
Southern California, April 29, 2019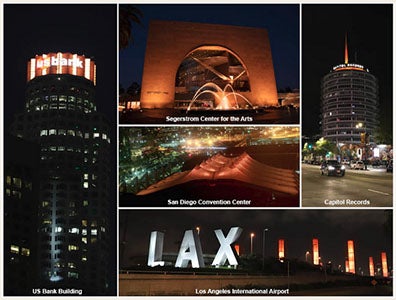 To commemorate Easterseals' 100 Year Anniversary, more than 30 iconic landmarks across the country lit up in orange on April 21. Locally, the LAX Pylons, the Capitol Records building, the U.S. Bank Tower downtown, the Santa Monica Clock Tower, the Segerstom Center for the Arts fountain, and the San Diego Convention Center Sails Pavilion all glowed in our brand-defining color.
Elsewhere in the country, other famous locations lighting orange included Niagara Falls, the Superdome, Daytona Speedway Tower and more. Additionally, the City of Los Angeles, the City of Irvine and San Diego County have all issued official proclamations saluting Easterseals on its Centennial.
Several media outlets including the LA Times, The San Diego Union Tribune, and NBC and ABC Los Angeles covered the lighting events.
This widespread support is a wonderful acknowledgement of the impact Easterseals continues to make in so many peoples' lives and across communities nationwide. It also speaks to your tremendous work and commitment day in and out, year after year. We should all be proud of this dynamic and highly-visible recognition!
Our 100th Anniversary celebration will continue throughout 2019, including a special anniversary gift to each associate that you will receive in late May. Planning is also underway for regional 100th Anniversary celebration events for all of our associates to honor your work in creating our legacy of exceptional service and building a more inclusive future. Stay tuned for more details!​ Visit WeCelebrate.org to learn more about our 100th Anniversary campaign!