For Immediate Release
Easterseals Southern California & Baker's Drive-Thru Restaurants 30th Annual 'Safe Halloween' Raises $255,123
Over $4.7 Million Raised to Date; 100% of Proceeds Support Local Easterseals Services in the Inland Empire
Inland Empire, CA, November 2, 2018
Media Contact:
Vicki Greenleaf, Greenleaf and Associates
vicki@greenleafandassociates.com
323.573.5111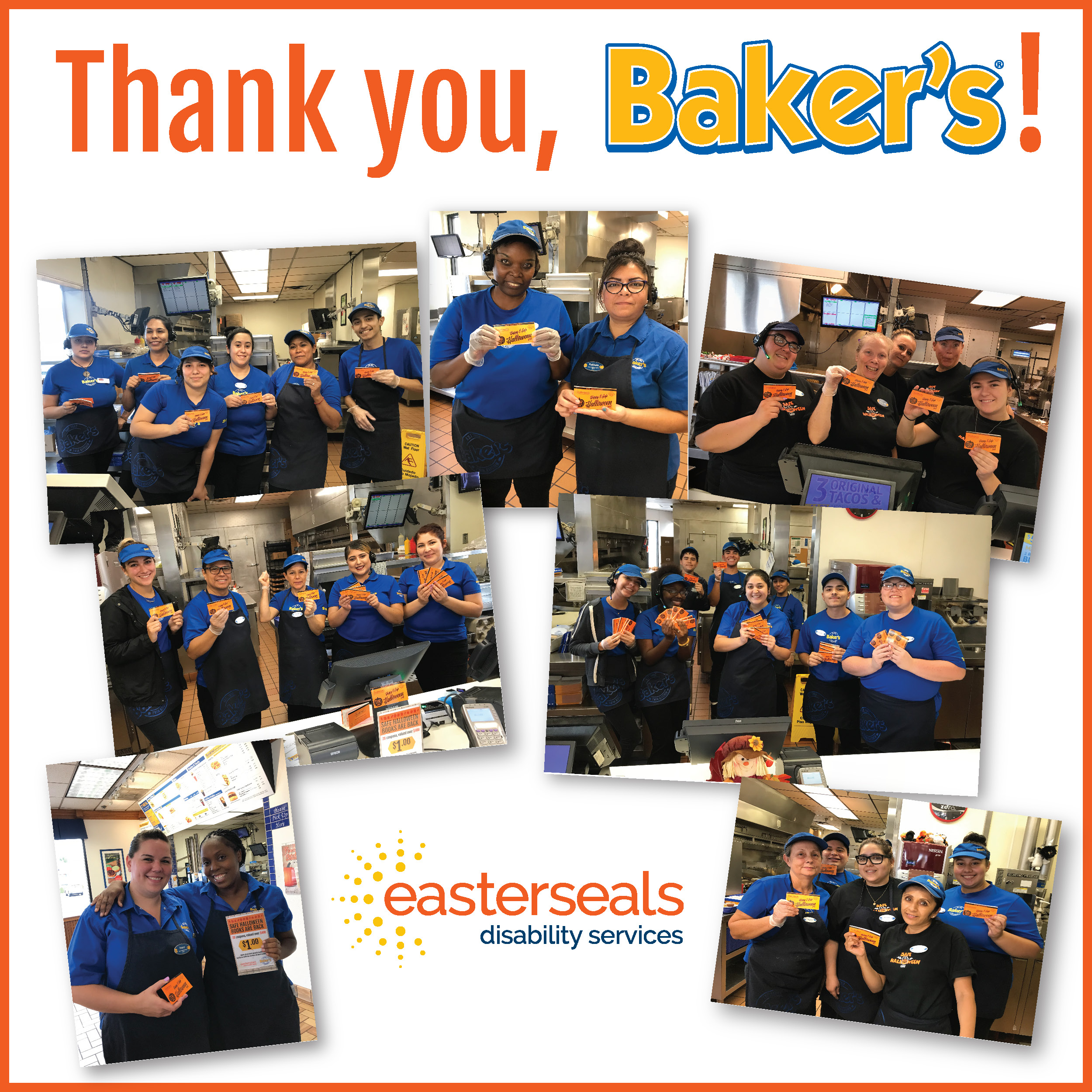 Easterseals Southern California's (ESSC) 30th annual Safe Halloween coupon book fundraising campaign, hosted by Baker's Drive-Thru Restaurants, raised $255,123 in 2018.
Through the Safe Halloween coupon book fundraiser, Baker's Drive-Thru has raised over $4.7 million for ESSC since 1989. One hundred percent of the proceeds from sales of booklets support Easterseals services in the Inland Empire for children and adults with developmental disabilities and other special needs.

Running Sept. 26 through Halloween, the booklets were available at all 39 Baker's locations. For just $1, booklets featured 28 free and discounted coupons valued at more than $400 for food, fun, products and services from local companies such as such as Baker's, Aquarium of the Pacific, Fantastic Sams, Fiesta Village, Krispy Kreme, Scandia Amusement Park, Vector Escape Games and more.
Said Mark Whitley, president & CEO of ESSC, "Partners like Baker's Drive-Thru Restaurants are key to the mission of Easterseals Southern California in making a profound and life-changing difference to thousands of people with disabilities and their families. Baker's unwavering commitment to bettering the Inland Empire community is outstanding and we thank them."
In 2019, Easterseals will observe its 100th anniversary of changing the way the world defines and views disabilities.
About Baker's Drive-Thru
Established in 1952 by Neal T. Baker, Baker's Drive-Thru has been serving quality food at a great value to the Inland Empire for over 64 years. Visit Baker's Drive-Thru at any of the 39 locations. For more about Baker's Drive-Thru restaurants, see the next page or visit www.bakersdrivethru.com.

Changing the Way You See Disability: Celebrate. Don't Separate
In 2018, ESSC launched a thought-provoking new awareness campaign – featuring southern California residents who receive services from Easterseals – aimed at Changing the Way You See Disability. With a goal of inclusion, the multi-faceted campaign asks people to reconsider how they view people with disabilities with such challenges as: Celebrate. Don't Separate; Dialogue. Not Doubt; Encourage. Don't Exclude; Include. Don't Isolate; Be Supportive. Not Sorry; and Spread Awareness. Not Assumptions. The campaign encompasses print, outdoor and internet ads, as well as a grassroots social media component with a "Make the Promise" call to action to support the campaign under the hashtag #CelebrateDontSeparate. Learn more at: www.CelebrateDontSeparate.org
About Easterseals Southern California
Easterseals, which will observe its 100th anniversary in 2019, has been an indispensable resource for individuals with developmental disabilities or other special needs and their families. The services provided by Easterseals Southern California (ESSC) – in Los Angeles, Orange, San Diego, Imperial, Kern, San Bernardino, Riverside and Ventura counties – make profound and positive differences in people's lives every day, helping them address life's challenges and achieve personal goals so that they can live, learn, work and play in our communities. With 2,700 employees, 60+ service sites and hundreds of community partnership locations, ESSC assists more than 10,000 people, providing adult/senior day services; autism therapy; child development/early education; employment services, veteran employment support; independent living options; and more. At Easterseals, 88% of our income is spent on services. Join us in changing the way the world defines and views disabilities.