For Immediate Release
Easterseals Southern California Chief Marketing and Communications Officer Selected as PRWeek Women of Distinction Honoree
Kimberly Cohn is one of 25 women being recognized for her ability to innovate and inspire
IRVINE, Calif, March 22, 2023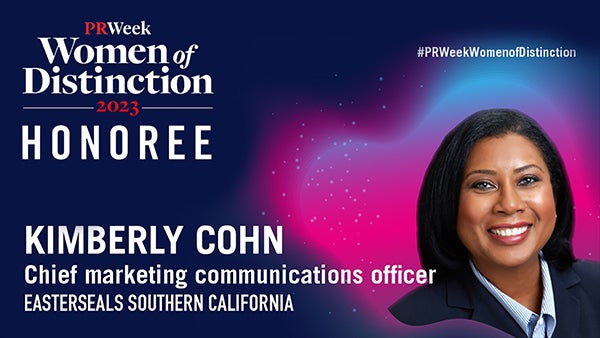 PRWeek's Women of Distinction and Women to Watch honors communications pros who set the bar higher within their organizations. Out of more than 250 nominations, PRWeek selected 25 women to be inducted to the class of 2023 Women of Distinction, including Easterseals Southern California Chief Marketing and Communications Officer Kimberly Cohn.
Kim, who has been with ESSC since 2004, leads the marketing and communications team in expressing the organization's mission through branding, marketing, communications, public relations and digital communications. She has played a vital role in building Easterseals Southern California as a premier disability services provider and amplifying ESSC's message of equity and inclusion for people with disabilities.
"Kim's leadership at ESSC and in her field is exceptional, and she truly sets the standard for communication with and about people with disabilities," said Beverlyn Mendez, chief operating officer, Easterseals Southern California. "Her creativity and expertise have helped us spread the word about our brand and build our image as a premiere disability service provider."
Now in its eighth year, PRWeek selects women who have achieved success within their own organization, inspired colleagues and, through innovative and transformative work, elevated the practice of public relations to new heights.

"Every single Women of Distinction and Women to Watch honoree is a role model. They have proven themselves to be tireless, fearless, compassionate and effective business leaders — especially in recent times of crisis; but even more important, they are, quite simply, good people. Many spend their spare time raising up other women in the industry by educating, empowering and advocating for them," says Diana Bradley, associate news editor at PRWeek.

The class of 2023 Women of Distinction will be profiled in the March-April print issue of PRWeek and honored at a celebratory event on May 31, in NYC. This event will feature networking and panel discussions with experts providing women with the tools and insights needed to help them chart a path all the way to the C-suite.
About Easterseals Southern California
Easterseals is leading the way to full equity, inclusion and access through life-changing disability and community services. For more than 100 years, we have worked tirelessly with our partners to enhance quality of life and expand local access to healthcare, education and employment opportunities. Easterseals Southern California provides essential services and on-the-ground supports to more than 15,000 people each year—from early childhood programs for the critical first five years, to autism services, daily and independent living services for adults, employment programs, veterans' services and more. Our public education, policy and advocacy initiatives positively shape perceptions and address the urgent and evolving needs of the one in four Americans with disabilities today. Together, we're empowering people with disabilities, families and communities to be full and equal participants in society.
Learn more at: https://www.easterseals.com/southerncal
# # #
Join the Conversation …
Easterseals.com/SouthernCal
Like us: www.facebook.com/EasterSealsSoCal
Follow us: www.twitter.com/EasterSealSoCal