For Immediate Release
Easterseals Southern California Launches New Technology Lending Library
Program Loans Laptops & Tablets to SoCal's Disability Community
IRVINE/LOS ANGELES, August 10, 2022
Media Contact:
VIcki Greenleaf, Greenleaf & Associates
vicki@greenleafandassociates.com
323.660.5800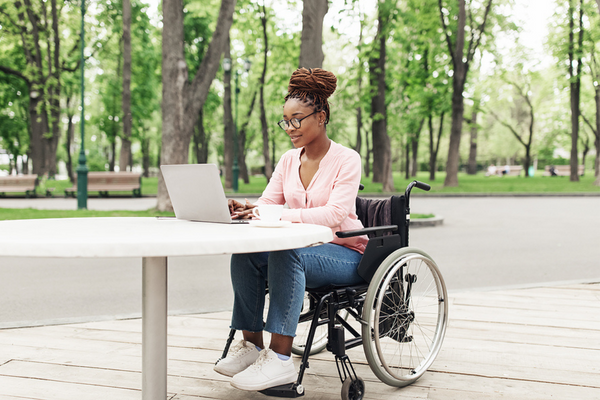 Easterseals Southern California(ESSC)—which assists more than 15,000 people with disabilities throughout SoCal—has launched a Technology Lending Library, a new service which loans laptops and tablets to the local disability community at no cost. Technical training is supplied and assistance with low- or no-cost Internet access is available as needed.
According to the CDC, 25% of U.S. residents, more than 61 million people across the country, have a disability. Of those, 23% live in California (more than 9 million), nearly 5.5 million of them in SoCal.
Laptops and tablets are available to any individual who meets program qualifications and is referred by one of five Los Angeles County Regional Centers, which are providing $800,000 annually to fund the program.
The library offers laptops, iPads and "JayPads," specialty tablets designed and equipped for individuals requiring barrier-free support. With automatic charging stands that hold the tablet and an "auto join" feature that allows for instantly accessing calls, these tablets enable participants to use the devices without relying on others.
Through the Technology Lending Library, ESSC is helping people with disabilities connect with their communities, stay in touch and look for jobs remotely with the help of technology, as do their non-disabled peers. The state of California is meeting the needs of people with disabilities by providing five L.A. Regional Centers with grant money to close the digital divide for people who may be unable to afford devices on their own. As a grant recipient, ESSC provides equipment, free internet access, training and ongoing help desk support for participants.
Commented Reese Peterson, director, Technology Lending Library, "We were aware of the 'digital divide' in our communities, but when Easterseals began providing services remotely during the pandemic, we observed the issue firsthand and its impact on ESSC participants—an experience we know is common for people with disabilities throughout L.A. County. This technology library is a way to start closing that divide.
"What's really terrific about this service," Peterson continued, "is that it allows for individuals who may never have owned a computer to become more comfortable with technology, which is more important today than ever. This service is an innovative way to achieve our Vision & Impact Plan's 'Expand' key strategy by reaching more people across our service areas."
Individuals supported by a participating Regional Center—including Eastern Los Angeles Regional Center, Frank D. Lanterman Regional Center, Harbor Regional Center, North Los Angeles County Regional Center and San Gabriel/Pomona Regional Center—are eligible for a device and should contact their service coordinator for a referral to ESSC.
About Easterseals Southern California
Easterseals is leading the way to full equity, inclusion and access through life-changing disability and community services. For more than 100 years, we have worked tirelessly with our partners to enhance quality of life and expand local access to healthcare, education and employment opportunities. Easterseals Southern California provides essential services and on-the-ground supports to more than 15,000 people each year—from early childhood programs for the critical first five years, to autism services, daily and independent living services for adults, employment programs, veterans' services and more. Our public education, policy and advocacy initiatives positively shape perceptions and address the urgent and evolving needs of the one in four Americans with disabilities today. Together, we're empowering people with disabilities, families and communities to be full and equal participants in society.
Learn more at: https://www.easterseals.com/southerncal
# # #