For Immediate Release
Easterseals' Partner Gold Pictures Launching Celebrity-Filled Documentary 'CinemAbility: The Art of Inclusion' October 5 on DVD and Video on Demand
The award-winning documentary looks at the history of disability portrayals in entertainment
September 24, 2018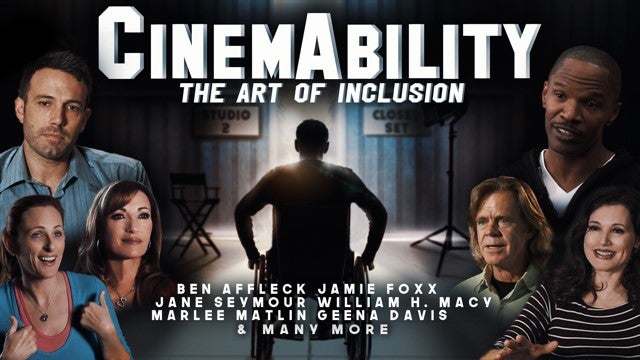 Easterseals' partner Gold Pictures is scheduled to release its award-winning documentary film "CinemAbility: The Art of Inclusion" across video-on-demand services and on DVD October 5, to coincide with National Disability Employment Awareness Month.
Gold Pictures is the production shingle of the film's director Jenni Gold, one of only two members of the Directors Guild of America who identifies as having a disability and the first female member to use a wheelchair.
CinemAbility: The Art of Inclusion reveals a compelling and often amusing look at the history of disability portrayals in entertainment. From the early days of silent films to present-day Hollywood blockbusters, this historic film takes a detailed look at the evolution of "disability" in entertainment over the last 120 years by going behind the scenes to interview celebrities, filmmakers, and studio executives. With heart and humor, CinemAbility: The Art of Inclusion utilizes clips from Hollywood's most beloved motion pictures and television programs to shine a light on how the media impacts society and the monumental effect these portrayals have on inclusion. View the film's trailer here.
Called "Eye opening" and "An arresting look at disability" by the Los Angeles Times, CinemAbility features interviews with Ben Affleck, Michael Apted, Paris Barkley, Geena Davis, Peter Farrelly, Jamie Foxx, Vince Gilligan, Taylor Hackford, Helen Hunt, William H. Macy, Marlee Matlin, Jane Seymour, Gary Sinise and more.
As part of its ongoing mission to Change the Way We View Disability, Easterseals Southern California (ESSC) partnered with Gold Pictures last March to raise awareness within the entertainment industry to be more inclusive and create opportunities in front of and behind the camera for people with disabilities. You can read more about the partnership here.

ESSC first aligned with Gold when she served as a judge for the organization's Easterseals Disability Film Challenge, a 55-hour contest that gives filmmakers – with and without disabilities – the opportunity to collaborate and tell unique stories that showcase disability in its many forms and support Easterseals' goal to change the way the world defines and views disability, so everyone can reach his or her potential. The 2019 dates for the sixth annual challenge will be announced shortly. Learn more about the challenge by clicking here.
Click here to learn more details about the documentary CinemAbility: The Art of Inclusion.