For Immediate Release
ADS Glendale Participants Take Part in Art Contest
​The experience helps participants be part of their community!
January 9, 2020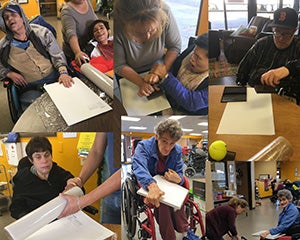 Participants at ADS Glendale are teaming up with the Glendale Unified School District for the fourth year to create and judge an art contest.

The participants are stamping and preparing poster board that will go to the district to be distributed among the teachers and students. Each stamp includes a student's name, the school they attend, their grade and their teacher.
Once they receive the stamped poster board, the students will draw, color and create art that will be judged by the Easterseals Southern California (ESSC) participants in late January, early February, with awards presented at the district's annual dinner in April.
"The benefits of our individuals participating is that they get to be a part of their community," said Brian Nguyen, Program Director for ADS Glendale. "It also allows our community members to meet some of our participants."
At the annual dinner, ESSC will be mentioned for their volunteer work with the district. The participants will have prepared a whopping 10,000 pieces of poster board for the contest.