For Immediate Release
Five Tips to Stay Safe on the Los Angeles Metro
October 22, 2019
Representatives from the Los Angeles County Metropolitan Transportation Authority (Metro) recently gave an in-depth presentation to approximately 30 ESSC Adult Day Services (ADS) participants in San Pedro. Metro drove one of their buses out to Averill Park, where they gave participants tips on how to safely ride the bus, policy updates such as the conversion from tokens to TAP cards on November 1, advice on paying attention to their surroundings and traveling in groups, and more.
"We want to encourage people to ride public transportation and help them feel comfortable while doing so in order to increase their freedom and independence," said Metro Accessibility Program Manager Paula Guevara, who led the presentation.
The presentation was very useful for the participants, since riding the bus is one of their main modes of transportation. "I ride the bus every day with my friends to volunteer sites," ADS participant Lorena explained.
Participants and ESSC associates had the opportunity to ask questions following the presentation, and to chat one-on-one with Paula and other Metro representatives.
ADS Life Skills Coach Ronald A. worked with LA Metro to organize the presentation. "Presentations like this help keep our participants safe and in contact with the bus drivers," Ronald said. "Since we regularly ride the bus, it's very helpful for everyone to feel comfortable and know what to do in various situations."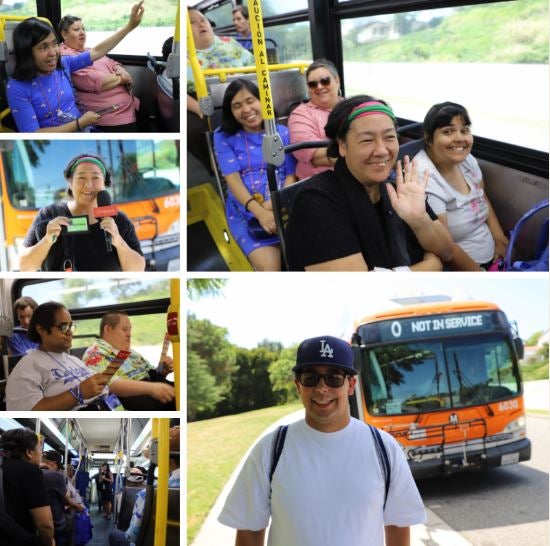 Learn more about our adult day services program.