For Immediate Release
Easterseals Joins Dodgers Foundation for Grand Opening of Dodgers Dreamfield
The new baseball field in Fontana, co-sponsored by ESSC, is universally accessible to accommodate individuals with disabilities.
Fontana, Calif., June 24, 2019
Several ESSC associates and participants took part in a festive grand opening celebration for the Los Angeles Dodgers Dreamfield at Jack Bulik Park in Fontana on June 22. The 51st Dodgers Dreamfield is a universally accessible field created by the Los Angeles Dodgers Foundation (LADF) designed to accommodate individuals of all abilities.
The momentous occasion also brought together hundreds of fans, young players, city officials, and special guests including Los Angeles Dodgers pitcher Joe Kelly and third-base coach Dino Ebel, both of whom live nearby in Rancho Cucamonga. The celebration also included several family-friendly activities and food including Dodger Dogs and cupcakes featuring the Easterseals 100th anniversary logo.
ESSC staff member Danny O'Conner, who attended Easterseals Camp when he was younger and volunteered for Easterseals for several years before becoming a Personal Attendant for Adult Day Services in Riverside in 2001, gave a moving speech at the groundbreaking ceremony. He expressed his excitement and gratitude to be able to play baseball in the new, universally accessible field.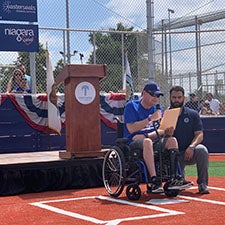 "When I was a young boy, I remember running the bases with the wind in my hair, hoping I wouldn't get tagged before I was safe," Danny said. "That was before my accident and diagnosis with traumatic brain damage. I haven't been able to play since. But now, thanks to Easterseals and my favorite team…I can join others and play again."
Danny also thanked the Los Angeles Dodgers Foundation and the community sponsors for the amazing park, adding that the Dreamfield's special accommodations allow everyone to play America's favorite pastime.
ESSC co-sponsored the field along with other community sponsors, and Easterseals signage was displayed throughout the park. Inland Empire-based Baker's Restaurants, ESSC's long-term partner in the annual Safe Halloween fundraiser, is also a community sponsor.
After the grand opening ceremony, the field hosted its inaugural game with participants with special needs from the Little League Challengers programs. Dodger representatives Kelly and Ebel coached the teams and gave the players pointers.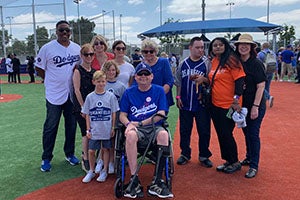 In 2018, LADF announced a renewed commitment to the Dodgers Dreamfield program and established plans to build an additional 25 fields by 2033 as part of a new 75 x 75 campaign, which will celebrate 75 Dreamfields by the 75th anniversary of the Dodgers in Los Angeles. Go blue! Learn more about Easterseals involvement with the Dreamfield here.