For Immediate Release
Easterseals Disability Film Challenge Celebrates 10 Years
Celebrating a decade of leadership advocating for diversity, equity and inclusion in the entertainment industry.
IRVINE/LOS ANGELES, January 19, 2023
Media Contact:
Vicki Greenleaf
vicki@greenleafandassociates.com
323.573-5111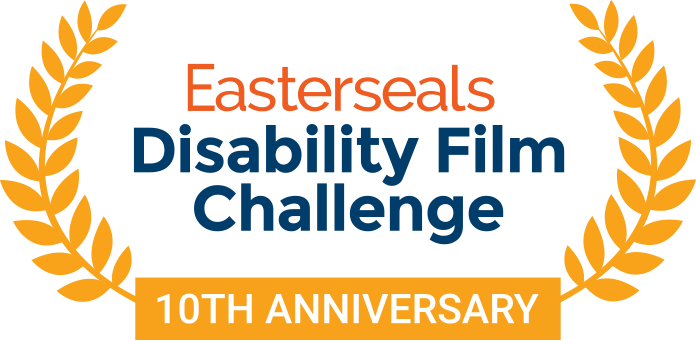 Celebrating a decade of leadership advocating for diversity, equity and inclusion in the entertainment industry, the 2023 Easterseals Disability Film Challenge opens for registration Jan. 21, with the competition to be held March 28 – April 2. The awards ceremony will be held May 4 at Sony Pictures Studios.
This year's featured genre for the 10th anniversary Challenge will be revealed at IMDb and Prime Video's "Authentically Successful" panel presented with Acura—featuring a discussion between community leaders who are paving the way for authentic and inclusive productions—at the upcoming Sundance Film Festival, Jan. 20 at 2:30 p.m. MT at the Acura Energy Stage at Acura Festival Village, 480 Swede Alley, and is open to the public.
According to the CDC, 25% of U.S. residents, more than 61 million people, have a disability, making it today's largest minority population. Yet according to a Nielsen study released in 2022, about 95% of characters with disabilities in Hollywood's top TV shows are played by able-bodied actors and, during the 2019 Oscars—a year when disability inclusion was reported at its highest to date—only two of the 61 nominees and 27 winners who played disabled characters were actually disabled.
"As the entertainment industry strives to build a more diverse and inclusive workplace, we must keep disability in the conversation," said actor, comedian, producer and disability advocate Nic Novicki, founder of the Challenge. "I created the Easterseals Disability Film Challenge to help accelerate change within Hollywood and to provide filmmakers and actors with tangible work experience and with an opportunity to tell authentic stories. We are proud of the amazing films produced over the past 10 years—viewed around the world—and the successes our participants have gone on to achieve."
Since the Film Challenge was launched in 2013, aspiring filmmakers have created and submitted more than 500 short films (a record 95 last year) from nearly every state and from around the globe, including submissions from Austria, Canada, England, Egypt, Finland, France, Germany, India, Ireland, Timor Leste and The Netherlands.
Previous winners and participants have gone on to achieve great success within the industry, landing roles or directing segments of such popular films and TV shows as New Amsterdam, Superstore, The Good Doctor, Loudermilk, Dahmer, Marry Me, Moxie, Special, Good Trouble, So Help Me Todd, Best Foot Forward, As We See It, Growing Up and Lucky Hank, an upcoming Sony Pictures Television/AMC series directed by Peter Farrelly. Additionally, Challenge films have gone on to win awards at an array of other film festivals; and participants have earned accolades and grants from prestigious organizations around the world (including the AT&T Underrepresented Award), given Ted Talks and lectured about the experience at Harvard.
"Hollywood has only begun to tap into the power of inclusion and to showcase this significant segment of our society," said Mark Whitley, President and CEO of Easterseals Southern California. "The Easterseals Disability Film Challenge gives filmmakers, actors and their crews invaluable entertainment experience and a chance to network with industry professionals. Likewise, it's an opportunity for studios, networks, guilds, talent agencies and people working in entertainment to get involved to change the way we all experience and understand disability."
During the Film Challenge, registered filmmakers are given a span of five days over the designated timeframe to write and produce short films (three-to-five minutes), based on the year's announced genre, which promote disability inclusion. Submitted films are judged in six award categories: Best Film, Best Director, Best Actor, Best Writer, Best Editor and Best Awareness Campaign.
Winners receive invaluable access to entertainment leaders and resources, opening the door to an industry notoriously difficult to enter, as well receive as a variety of prizes to help them achieve their career goals, including:
• $2,000 grants provided by NBCUniversal.
• Dell Technologies computers.
• One-year membership to IMDbPro, the essential resource for entertainment industry professionals.
• Screenings at Academy Award-qualifying festivals, including the Heartland Film Festival, HollyShorts Film Festival and NewFilmmakers LA.
• One-year subscription to Adobe Creative Cloud, the world's best platform of creative apps and services, empowering you to make anything you can imagine, wherever you're inspired.
• Mentorship meetings with entertainment industry executives and talent, including Ian Bricke, VP, Independent Film, Netflix; Academy Award-winning filmmaking team Phil Lord & Chris Miller (Spider-Man: Into the Spider-Verse, the Lego movies, 21/22 Jump Street), Karen Noble, Senior Manager, Creative Talent & Content, Global Talent Development & Inclusion, Universal Filmed Entertainment Group; Emmy-nominated actor Ryan O'Connell (Special, Queer as Folk); and Tiffany Smith-Anoa'i, Executive VP, Entertainment Diversity & Inclusion, West Coast, Paramount Global, among others to be announced.
The 2023 Film Challenge will be judged by a diverse group of influential entertainment industry talent, including: Nicole Castro, Managing Director, Hollyshorts Film Festival; director Kat Coiro (She Hulk, Dead to Me, Marry Me); Jerome Core, head of U.S. & Worldwide DEIA Content at Amazon Studios & Prime Video; director and activist Jenni Gold (CinemAbility: The Art of Inclusion); Tim Gray, Sr. VP, Variety; international disability rights advocate and author Judy Heumann (Crip Camp); Stacey Wilson Hunt, Contributing Editor, The Hollywood Reporter; filmmaker and activist Jim LeBrecht (Crip Cramp, Battlefield Earth, Pitch Black); actor, producer and activist Lawrence Carter Long (The Projected Image: A History of Disability on Film on Turner Classic Movies); three-time Emmy nominated journalist Allison Norlian; actor Mark Povinelli, President, Little People of America; journalist Richard Propes, The Independent Critic; journalist Cara Reedy (CNN, NPR, The Guardian); Gil Robertson, President, African-American Film Critics Association; journalist Lindzi Scharf (Los Angeles Times, Entertainment Weekly, WWD); Nigel Smith, News Editor, Movies, People magazine; fashion stylist and author Stephanie Thomas; Film Independent Nominations Director Jennifer Wilson; and actor and comedian Danny Woodburn (Mirror Mirror, Jingle All the Way, Seinfeld).
The Easterseals Disability Film Challenge is made possible by the generous support of its supporters: Adobe, Dell Technologies, HFPA, IMDb, Intel, NBCUniversal, Netflix, Paramount, Prime Video, and Sony Pictures Entertainment.
About the Easterseals Disability Film Challenge:
As someone with a disability, actor, comedian, and producer Nic Novicki launched the Disability Film Challenge in 2013 in response to the under-representation of talent with disabilities both in front of and behind the camera. Novicki created the challenge to give aspiring filmmakers the opportunity to showcase their work and provide them with meaningful exposure. In 2017, Novicki joined forces with Easterseals Southern California - the nation's leading nonprofit supporting people and families with disabilities - to expand the event, now known as the Easterseals Disability Film Challenge. Learn more at www.DisabilityFilmChallenge.com.
About Easterseals Southern California:
Easterseals is leading the way to full equity, inclusion, and access through life-changing disability and community services. For more than 100 years, we have worked tirelessly with our partners to enhance quality of life and expand local access to healthcare, education, and employment opportunities. Easterseals Southern California provides essential services and on-the-ground supports to more than 15,000 people each year - from early childhood programs for the critical first five years to autism services, daily and independent living services for adults, employment programs, veterans' services, and more. Our public education, policy, and advocacy initiatives positively shape perceptions and address the urgent and evolving needs of the one in four Americans with disabilities today. Together, we're empowering people with disabilities, families and communities to be full and equal participants in society. Learn more at: https://www.easterseals.com/southerncal
# # #
Join the Conversation …
www.DisabilityFilmChallenge.com
Facebook: Facebook.com/DisabilityFilmChallenge
Twitter: https://twitter.com/disabilitychall