For Immediate Release
Easterseals Bob Hope Veterans Support Program Receives Grant From The Albertson's Companies Foundation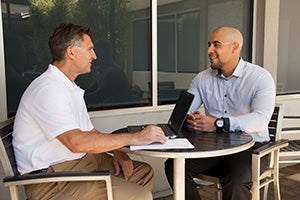 Adding to the tremendous support The Albertson's Companies Foundation has provided to our Easterseals Bob Hope Veterans Support Program (BHVSP) since its inception in 2014, a $250,000 grant was awarded to Easterseals in early November, providing another reason for a Veterans Day celebration.
The funds will support Easterseals BHVSP to continue providing one-on-one employment services to meet the unique needs of military personnel and veterans transitioning out of the military into a meaningful civilian job or starting their own small business.
"We are incredibly grateful for the commitment and resources that The Albertson's Foundation, including Albertsons, Vons and Pavilions stores, continues to dedicate towards helping us ensure that transitioning military members and veterans are provided an individualized, effective path to civilian employment," said John Funk, Director of Operations for the Easterseals Bob Hope Veterans Support Program. "These funds ensure we have the resources needed to not only assist our veterans with securing meaningful employment, but to remove any obstacles that may prevent them from reaching that goal."
Easterseals Bob Hope Veterans Support Program was started with seed funding from The Bob Hope Legacy division of the Bob and Dolores Hope Foundation, which supports organizations that bring HOPE to those in need, and those who served to protect our nation, consistent with the legacy of Bob Hope, a world-class entertainer and humanitarian. To date, The Bob Hope Legacy has donated more than $1.8 million dollars in support of Easterseals' military and veteran services.
This year's $250,000 grant raises the total donation from The Albertson's Foundation to more than $2.3M over the past six years.
Learn more about the Bob Hope Veterans Support Program.