For Immediate Release
Easterseals Announces Sundance Film Festival Programming, Partnership, Advancing Disability Representation in Entertainment--For The First Time Ever, Entire Festival Lineup Will Be Closed-Captioned
Festival will mark the launch of the 2021 Easterseals Disability Film Challenge, and Easterseals in Entertainment Website and Resource Center
LOS ANGELES, January 19, 2021
Media Contact:
Andy Gelb / Elyse Weissman, SLATE PR
andy@slate-pr.com / elyse@slate-pr.com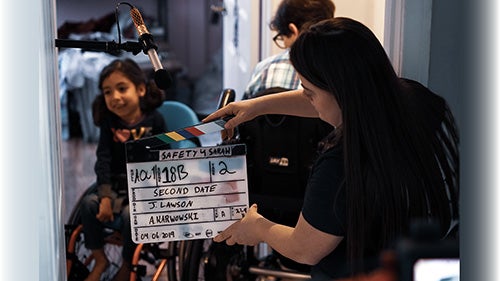 Today, nonprofit disability services provider Easterseals Southern California announced their ongoing partnership with the Sundance Film Festival, unveiling a line-up of programming furthering its mission to redefine representation for the disability community both in front of, and behind, the camera. Easterseals has served as the disability inclusion expert for over 100 years, consistently working toward their goal of changing the way the world defines and views disability, through strategic partnerships within the entertainment industry.
As an Allied Organization of Sundance Institute and member of its Accessibility & Inclusion Alliance, Easterseals has worked alongside the Sundance Institute for the past four years, and through curated content and accessibilities consultation, has made tremendous strides in transforming the festival, and ultimately the industry as a whole, into a more accessible environment. With the format of the 2021 festival pivoting in light of the current pandemic, for the first time ever, the entire 70+ feature lineup on the festival platform will be closed-captioned on demand, and Q&As will be live-captioned. This is a game-changing modification that Easterseals was instrumental in bringing to fruition. There is also a dedicated landing page, and widget, with more information about accessibility features at this year's event.
"We are so excited about the crucial initiatives that Easterseals is launching in conjunction with our incredible partners at the Sundance Institute, allowing us to kick off 2021 with accessibility at the forefront of the conversation," said Mark Whitley, CEO of Easterseals Southern California. "Offering closed captions for every film screening is an accomplishment that we are incredibly proud of, and we hope that all other industry leaders take note as we work together to make the world of entertainment available and enjoyable to all."
"Inclusion and accessibility are drivers of institutional excellence and among Sundance Institute's core values, and for years Easterseals has been our key partner in living those values," said Karim Ahmad, Director of Outreach & Inclusion at Sundance Institute. "This year, amidst all the tumult the Pandemic has wrought, we also have the potential for the most accessible version of our Festival in its history. But that promise of accessibility requires support. The participation of our artist community, and especially the guidance and thought partnership of field leaders like Easterseals are critical to realizing that promise. We are so grateful to be on this journey together."
Curated content hosted by Easterseals during this year's festival includes three thought-provoking events:

Authentic Disability Inclusion: Ask the Experts
February 1, 2021
This forum will serve as an open discussion to support content creators wishing to be more inclusive across their productions – a "how to" of sorts for authentic disability representation. Hear from actors CJ Jones (Baby Driver, Avatar 2), Jamie Brewer (American Horror Story), Nicole Evans (Superstore), and Nic Novicki (The Good Doctor, Easterseals Disability Film Challenge), joined by activist Ari Ne'eman, and moderated by activist Lawrence Carter-Long.
Building a More Accessible Industry
January 29, 2021
Join this discussion as NALIP and Easterseals Disability Film Challenge discuss Latinx disability representation in storytelling. This panel is sponsored by IMDbPro.

Participants: Danny J. Gomez, Andy Arias and Danielle Perez. Moderated by Nic Novicki
Easterseals Disability Film Challenge Launch
January 30, 2021
As in previous years, the festival will also mark the opening of registration for the Easterseals Disability Film Challenge (EDFC). Launched in 2014, the challenge gives filmmakers – with and without disabilities – the opportunity to collaborate to tell unique stories that showcase disability in its many forms. It is a week-long filmmaking contest, open to all, that provides a platform for new voices in the entertainment industry. Each year, aspiring storytellers are prompted to creatively write, produce, and complete a short film. Winners receive invaluable access to entertainment professionals, opening the door to an industry notoriously difficult to enter. For more information, visit: https://disabilityfilmchallenge.com/

Participants: Nic Novicki (EDFC) and Karim Ahmad (Sundance Institute)
For additional information, and to sign up to view the panels, visit: https://festival.sundance.org/
Also coinciding with the festival, Easterseals Southern California will launch its "Easterseals in Entertainment" website and resource center. The site will showcase the ongoing initiatives founded by Easterseals, which aim to change the way the world defines and views disability, using the Entertainment industry as an incredibly powerful tool to do so. The site will also serve as a resource center, offering tools for finding actors and creators within the disability community, providing a Best Practices Guide for writers looking to bring authentic disability representation to their work and writers rooms, and much more! Visit https://eastersealsinentertainment.org/
"We are confident that our Easterseals in Entertainment website will provide useful tools, and offer answers to questions that so many have about how they can play their part," added Whitley.
To stay in the know on all things related to Disability Inclusion, follow:
Facebook:
@EastersealsSoCal
@DisabilityFilmChallenge
@MediaAccessAwards
Twitter:
@EastersealsSoCal
@DisabilityChall
@MediaAccess4All
Instagram:
@EastersealsSoCal
@DisabilityFilmChallenge
@MediaAccessAwards
About Easterseals Southern California
For more than 100 years, Easterseals has been an indispensable resource for individuals with developmental disabilities and their families. The services provided by Easterseals Southern California (ESSC) – in Los Angeles, Orange, San Diego, Imperial, Kern, San Bernardino, Riverside and Ventura counties – make profound and positive differences in people's lives every day, helping them address life's challenges and achieve personal goals so that they can live, learn, work and play in our communities. With 2,800+ employees, 60+ service sites and hundreds of community partnership locations, ESSC assists more than 13,000 people, providing adult/senior day services; autism therapy; child development/early education; employment services, veteran employment support; independent living options; and more. Join us in changing the way the world defines and views disabilities at www.easterseals.com/southerncal .