For Immediate Release
Easterseals Ambassador Lora Glassman Has Essay Published on Writer/Producer Shonda Rhimes' Website
August 27, 2018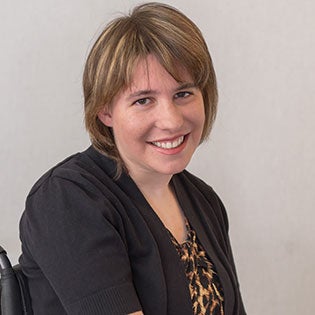 This week Easterseals Ambassador Lora Glassman had an essay published on the homepage of the website Shondaland.com, a digital content and storytelling platform founded by television producer, screenwriter, and author Shonda Rhimes, creator of popular television programs such as "Grey's Anatomy," "Scandal," and "How to Get Away with Murder" among others.
A long-time activist for the disability community and an awareness educator since a young age, Lora explains that in addition to being someone with a disability, she is a writer, actor, daughter, cousin, niece and friend, and that her disability does not define her. As Lora was growing up, she found that many of her classmates had trouble accepting her for who she was and seeing past her wheelchair. For this reason, she believes in disability awareness education.
Lora built her essay around the insensitive question she is often faced with, "what's wrong with you?" Lora writes about how she handles the inquiry from innocent children and intrusive adults regarding why she uses a wheelchair, and goes on to advocate for disability awareness education which she says "can help people without a disability see where changes need to be made to accommodate someone with a disability and promote inclusiveness for all." She adds, "And it needs to start in our elementary schools. Making disability the norm at an early age removes the stigma, and encourages empathy and compassion for others."
Lora has grown up with Easterseals, using our services since she was 14 years old. She first received support from Easterseals' After-School Service. Then Easterseals' Individualized Service provided Lora with a support person to help navigate her college campus, classes and coursework. She has given speeches to various audiences about Easterseals and has spent many summers enjoying a fun-filled week at Easterseals Camp. She is currently featured in Easterseals' ad campaign "Celebrate. Don't Separate."
Lora is a Southern California native and a graduate of California State University, Fullerton, where she received a B.A. in Radio, Television and Film. She is currently pursuing a career as an actor and voiceover artist.

Discover more about Lora in our previous Easterseals essay by clicking here.