For Immediate Release
Dr. Joyce Tu Shares Research at Internationally Recognized Symposiums
June 8, 2020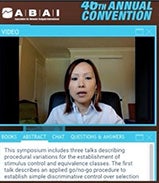 Recently, Regional Vice President of Autism Services, Dr. Joyce Tu presented original research at the Moscow Autism Conference and Association for Behavior Analysis International (ABAI) events, including their annual convention. These symposiums were online due to the pandemic.
Joyce, who has been presenting at conferences globally for 20 years, was on the agenda at symposiums offered by Association for Behavior Analysis International (ABAI), the primary membership organization for those interested in the philosophy, science, application, and teaching of behavior analysis.
"My presentation for ABAI was called, Back to Basics: Using 'Go and No-go,' to Teach Simple Discrimination to a Learner with Autism," explained Joyce. "I presented with Vanesa Yip, a Clinical Supervisor in the Irvine office. We discussed a way of teaching that we pulled from our behavior analysis research. This method solved the problem of some participants not being able to respond appropriately to simple instructions," Joyce said.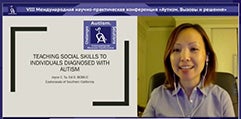 Joyce presented two studies for the Moscow Autism Conference. One presentation is on "The Role of Joint Control in Listener Responses and Generative Responding" and another one on "Teaching Social Skills to Individuals Diagnosed with Autism." The Moscow Autism Conference is hosted by the Moscow Autism Challenge Center, which is the leading Russian institution for autism research and advocacy. Each year, it invites the world's leading experts in psychology, psychiatry, genetics, neuroscience and autism therapy to present their work. The conference is a major source of state-of-the-art information on autism research and practice, and is instrumental in raising awareness and improving quality of life for people with autism spectrum disorder in Russia.
Joyce's sought-after expertise is another example of ESSC's leadership in autism research and our commitment to making profound, positive differences in people's lives every day.