For Immediate Release
Visitors Experience The Transformative Power of Camp Easterseals
August 26, 2019
Camp Easterseals was held from Sunday through Saturday the week of August 4-10, 2019 in the San Bernardino Mountains. The week featured many fun camp activities like crafts, hayrides, talent shows, swimming, canoeing, archery, hiking and ropes courses.
For Visitors Day on Tuesday, 30 associates who had been selected in a random drawing to participate, rode the bus up to the camp to share in the fun. Also joining were Nic Novicki and Jodi Huston, two ESSC board members. The visitors and campers participated together in several events in the morning, including canoeing, arts and crafts and a "mine shaft" slide. Visitors had a fantastic time interacting with the campers and volunteer counselors and experiencing the magic of Camp firsthand.
Check out this video showing some of their adventures.
For the dance held the evening of Thursday, Aug. 8, beauty Advisors from CVS Pharmacy traveled up to camp hours before the dance in vans so they could help campers prepare their hair and make-up for the big night!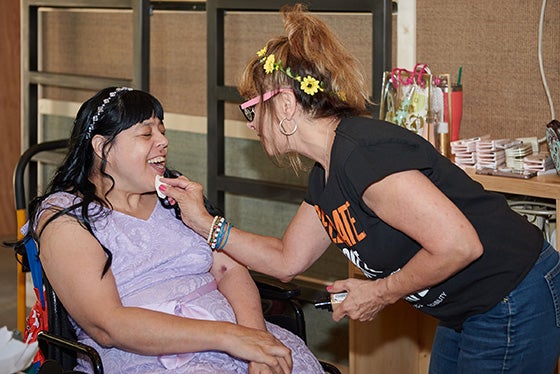 View photos of Easterseals Camp 2019.