For Immediate Release
Bob Hope Veterans Support Program Celebrates 675th Veteran Employed at San Diego Padres Game
San Diego, CA, August 22, 2018
Media Contact:
VIcki Greenleaf, GreenleafandAssociates
vicki@greenleafandassociates.com
323.660.5800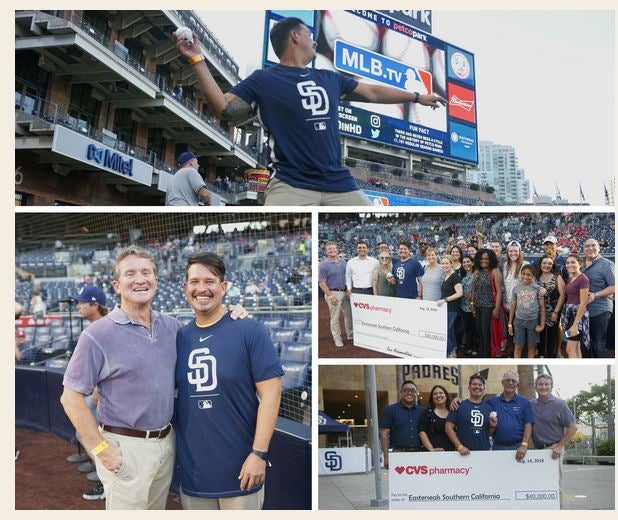 ​​On August 14, representatives of ESSC and CVS Health participated in the pre-game ceremony at Petco Park before the San Diego Padres played the Los Angeles Angels of Anaheim.
A veteran from ESSC's Bob Hope Veterans Support Program was invited to throw out the first pitch of the game. Air Force Reserve veteran Robert Napier, who was the 675th service member to achieve employment through the Bob Hope Veterans Support Program, threw the ceremonial opening pitch.
Robert has weathered some ups and downs since transitioning to civilian life after serving in the Air Force. Unemployment and PTSD made his path very difficult. After coming to the Bob Hope Veterans Support Program for help finding employment, our program Transition & Employment Specialists soon learned that he had been living in his car for five months, ineligible to stay at shelters with his service dog, Archie. The program helped him find temporary lodging, obtain V.A. benefits and quickly connected him with Ryan Bros Coffee to interview for a barista position. Following the interview, the San Diego-area chain elevated the offer and Napier began work as a maintenance and warehouse technician.
"I think this is a really important message in regards to homelessness," Robert said. "Beforehand, I thought, 'Why can't people just get a job and earn your way back?' But it's not that simple. I now realize how hard that can be. Archie [his service dog] and I were going hungry. I just wanted to find a job.
"Easterseals gave me the confidence and ability to follow through and stay the course," Robert continued. "It's a good job, the people I work for at Ryan Bros are great and I'm not hungry anymore. Things feel really stable. I'm happy, excited and thankful to move forward with my life."
At the game, CVS Health regional director Mohammadreza (Reza) Mohammadkhani and CVS District Leader Wolfgang Schiefer​ presented a generous check for $40,000 to Bob Hope Veterans Support Program Director of Operations John Funk and veteran client Robert Napier to support its programs.​
Learn more about the Bob Hope Veterans Support Program by clicking here.