For Immediate Release
Beverlyn Mendez, COO of Easterseals Southern California, Honored by the Los Angeles Times B2B as an Diversity, Equity, Inclusion & Accessibility Innovator & Thought Leader
IRVINE/LOS ANGELES, November 9, 2022
Media Contact:
Vicki Greenleaf, Greenleaf & Associates
vicki@greenleafandassociates.com
323.573-5111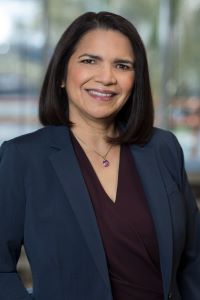 Dr. Beverlyn Mendez, Chief Operating Officer of Easterseals Southern California (ESSC), has been recognized by the Los Angeles Times B2B Division for her accomplishments as an innovator and thought leader in the field of diversity, equity, inclusion & accessibility (DEIA).
As part of the recognition, Dr. Mendez will moderate the "How to Build a Diverse Equitable & Inclusive Work Place" panel, part of the Times B2B DEIA Forum taking place Nov. 10, 8-11 a.m., at the Beverly Hilton Hotel, Los Angeles. The forum's goal is to provide valuable information to businesses and business leaders on how they can create DEIA initiatives that work. Additionally, ESSC and Dr. Mendez will be saluted in the Times' special-edition DEIA Magazine being published Dec. 18.
ESSC is the largest provider of disability services in California and one of the largest in the country. Its staff, volunteers and partnerships are as diverse as the communities we serve. Easterseals, in action and advocacy, prioritizes equity, respect and belonging. With a staff of 2,500 professionals, the organization provides services to more than 15,000 people and their families throughout Los Angeles, Orange, Riverside, San Bernardino, San Diego, Imperial, Kern and Ventura counties.
Through programs and services tailored to meet the needs of individuals, ESSC supports full participation and inclusion within local communities. ESSC's bold Vision and Impact Plan—which addresses the needs of the disability community, diverse in race, gender, sexual orientation, age, religion and culture—defines how the organization supports people with disabilities now and in the future. The non-profit's goal is to make Southern California the most inclusive place for people with disabilities to live, learn, work and play by 2030.
Dr. Mendez began her career with ESSC in 1990 as a program director for Adult Day Services, which supports adults with disabilities to actively participate in their local communities throughout SoCal. She later served in various leadership roles and played a key role in the growth and new development of services at ESSC and led the organization's CARF accreditation process. In 2000, she was named VP of Developmental Disabilities Services, before assuming her current role as COO in 2002.
Commented Mark Whitley, president & CEO of ESSC, "We are proud of the programs developed by ESSC to support local families and communities as we strive to help make Southern California the nation's most inclusive place to live. The contributions of Beverlyn in more than three decades with the organization, particularly her leadership in the past 20 years as COO, are enormous. We thank her for her dedication and join the Los Angeles Times B2B in applauding her for her vision and impact."
According to the CDC, 25% of U.S. residents, more than 61 million people across the country, have a disability. Of those, 23% live in California (more than 9 million), nearly 5.5 million of them in SoCal.
About Easterseals Southern California
Easterseals is leading the way to full equity, inclusion and access through life-changing disability and community services. For more than 100 years, we have worked tirelessly with our partners to enhance quality of life and expand local access to healthcare, education and employment opportunities. Easterseals Southern California provides essential services and on-the-ground supports to more than 15,000 people each year—from early childhood programs for the critical first five years, to autism services, daily and independent living services for adults, employment programs, veterans' services and more. Our public education, policy and advocacy initiatives positively shape perceptions and address the urgent and evolving needs of the one in four Americans with disabilities today. Together, we're empowering people with disabilities, families and communities to be full and equal participants in society.
Learn more at: https://www.easterseals.com/southerncal
# # #
Join the Conversation …
Easterseals.com/SouthernCal
Like us: www.facebook.com/EasterSealsSoCal
Follow us: www.twitter.com/EasterSealSoCal