For Immediate Release
Easterseals Southern California Ambassador Educates LA County Sheriff's Office About Autism
Los Angeles, CA,
Aaron Likens has no trouble speaking to crowds of people. In fact, at 36 years-old he's quite used to it, as he's been public speaking for almost a decade. But what began as a favor turned into a personal mission and an advocacy journey of a lifetime. Likens, who has autism, uses his insight to educate people and organizations, specifically law enforcement agencies, about what it means to be autistic and how to interact with a person who has autism. On Tuesday, December 3, Likens finished his 1,014th presentation, speaking as an autism ambassador for Easterseals Southern California (ESSC) at the LA County Sheriff's Office.
"One point I tried to get across is that one of the most important things about autism is if you've met one person with autism, you've only met one person. Autism affects us all differently," Likens explained.
Likens shared this information with the LA County Sheriff, and all the captains, commanders and chiefs.
"I talked about some of the signs that someone might be on the spectrum, why someone on the spectrum may behave a certain way," Likens said. "I wanted to give the deputies a better understanding so if they encounter certain behavior, it may not be because the person is trying to be intentionally difficult, there might be something else going on."
Likens feels compelled to speak to law enforcement in order to prevent negative interactions, which he has experienced.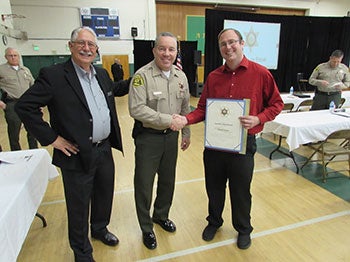 "I was part of a traffic stop that probably went longer than it should have. I couldn't get my words out which made the officer continue to throw questions out at me, which made me stutter more. Whether you're on the spectrum or not, if you get pulled over it's a stressful situation; for us with autism, it's heightened. It ended up I was being stopped for a broken taillight."
Likens' story is mild to some of the other situations he spoke about. He explained to the deputies that sometimes people with autism can't make eye contact, may have sensory issues or take things quite literally.
"One of my stories I spoke about happened to a person in St. Louis who was arrested because he didn't understand when the officer asked, 'Can I see your license?'. He had autism and took it literally, answering 'No, you can't see it.' For a person on the spectrum, this seemingly simple command can be confusing."
One important message relayed to the officers by Likens is that one out of 59 people has autism, so it's not a matter of if an officer will encounter a person with autism, but when.
"I also covered the threat of drowning and it being the leading cause of death for people with autism. If a child with autism wanders off, police must check areas with water," Likens said. "I also covered sensory issues because If a person is experiencing a sensory crisis and is on the spectrum, it's a physical pain response. You can restrain them all day long, but until they are removed from environment, de-escalation is not going to help."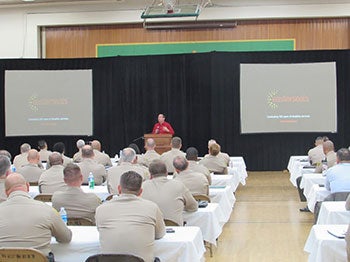 The deputies who attended the presentation were attentive and, according to Likens, were full of 'grace and appreciation.'
"I think I opened their eyes that this is something they do need training on and need to look into in the future," Likens said.
Likens is already preparing for his next presentation--with the help of ESSC—working together to change the way the world views disability.