For Immediate Release
Entertainment Industry Unites for Easterseals Disability Film Challenge Awards to Honor Filmmakers Who Inspire Change
Winners of the Easterseals Disability Film Challenge Announced by Micah Fowler, Geri Jewell, CJ Jones, Ryan O'Connell, Phil Lord, Christopher Miller and More at Sony Pictures Studios
May 10, 2019
Media Contact:
Melissa England, Finn Partners
Melissae@finnpartners.com
310.522.4163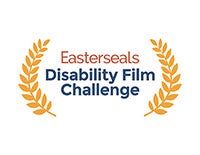 On Thursday, May 9, 2019, the orange carpet was rolled out at Sony Pictures Studios for the annual Easterseals Disability Film Challenge Awards Ceremony. Now in its sixth year, the Film Challenge empowers filmmakers with or without disabilities to collaborate and tell unique stories, while also providing opportunities for inclusion and representation for the world's largest minority group.
On-hand to present the night's awards were: actors Micah Fowler (ABC's "Speechless"), Geri Jewell ("Facts of Life;" "Deadwood") and CJ Jones ("Baby Driver;" "Avatar 2"), creator and actor Ryan O'Connell (Netflix's "Special"), Academy Award-winning filmmakers Phil Lord and Christopher Miller ("Spider-Man: Into the Spider-Verse" and "The Lego Movie"), Tiffany Smith-Anoa'i, EVP, Entertainment Diversity, Inclusion & Communications, CBS Entertainment, and Jeff Cafuir, the Director of Social Impact for NBCUniversal.
Of the growing number of films and shows featuring people with disabilities, O'Connell said, "We are no longer waiting for Hollywood's permission to tell our stories, we are doing it!"
"It's a bright future for people with disabilities in the media. But we can't sit back and wait for it to happen. We have to keep actively pushing," said Jones while presenting the finalists for Best Film with O'Connell. "You can't wait for the industry to say, 'Hey we've got a job opening for you.' That is why this Film Challenge is so critical. It gives you a chance to develop your own projects and get involved."
There were 71 films submitted as a part of the Film Challenge, featuring more than 200 people with disabilities in front of or behind the camera. The winners of the Easterseals Disability Film Challenge are:
Best Film: Amy Hopper, "Parents, Inc."
Best Director: Carl Hansen, "I/O"

Best Actor: Nicole Evans, "Human Helper"

Best Awareness Campaign: Rachel Handler, "The Vanished"
Teams participating in the challenge had 55 hours to write, shoot and edit a three-to-five-minute short film based on an assigned genre during the weekend of April 5-7. The genre assigned for this year's competition was sci-fi, which pushed many of the filmmakers outside of their comfort zone – and resulted in outstanding creativity in storytelling.
Actor, comedian, and little person Nic Novicki created the Film Challenge in response to under-representation of talent with disabilities in the entertainment industry, giving filmmakers the opportunity to showcase their work and provide them with meaningful exposure. The disability community makes up nearly 25 percent of the U.S. population, but is only seen in less than 3 percent of on-screen roles.
"The Easterseals Disability Film Challenge highlights the diverse abilities within the disability community – the talent, passion and drive that so many have, but may have not had the opportunity to showcase yet," said Novicki. "The Film Challenge opens doors for the disability community in Hollywood, while also opening the eyes and minds for others to the fact that representation is important, and that there's an entire minority group within our community that deserves to be seen and has stories to tell."
Winners of the Film Challenge will receive a mentorship opportunity with producer and President of SK Global John Penotti ("Crazy Rich Asians"), CBS's Smith Anoa'I, Lord, or Pam Dixon, casting director ("Angels in the Outfield," "City Slickers"). Other prizes include the latest in computer technology from Dell, the opportunity to screen their film at the HollyShorts Film Festival, a $2,000 production grant provided by Universal Filmed Entertainment Group, a Sony a6400L camera kit and more.
In honor of Easterseals' 100th anniversary and its ongoing work to advocate for inclusion of the disability community in Hollywood, Sony Pictures Entertainment illuminated its iconic water tower in orange the week of May 6 – leading up to the awards event.
Sponsors and partners for the 2019 Challenge include: Adobe, CBS Entertainment Diversity & Inclusion, Deadline Hollywood, Dell, Film Independent, Heartland Film Festival, HollyShorts Film Festival, Molly & David Pyott Foundation, the Newport Beach Film Festival, SAG-AFTRA, Sony Electronics, Sony Pictures Entertainment, Universal Pictures and Variety.
ABOUT THE EASTERSEALS DISABILITY FILM CHALLENGE
As someone with a disability, actor, comedian and producer Nic Novicki launched the Disability Film Challenge in 2013 in response to the under-representation of talent with disabilities both in front of and behind the camera.  Novicki created the challenge to give aspiring filmmakers the opportunity to showcase their work and provide them with meaningful exposure. In 2017, Novicki joined forces with Easterseals Southern California – the nation's leading nonprofit supporting people and families with disabilities – to expand the event, now known as the Easterseals Disability Film Challenge. Learn more at www.DisabilityFilmChallenge.com and join the conversation at Facebook.com/DisabilityFilmChallenge.
ABOUT EASTERSEALS SOUTHERN CALIFORNIA 
For 100 years, Easterseals has been an indispensable resource for individuals with developmental disabilities or other special needs and their families. The services provided by Easterseals Southern California (ESSC) – in Los Angeles, Orange, San Diego, Imperial, Kern, San Bernardino, Riverside and Ventura counties – make profound and positive differences in people's lives every day, helping them address life's challenges and achieve personal goals so that they can live, learn, work and play in our communities. With 2,800+ employees, 60+ service sites and hundreds of community partnership locations, ESSC assists more than 13,000 people, providing adult/senior day services; autism therapy; child development/early education; employment services, veteran employment support; independent living options; and more. At Easterseals, 88% of our income is spent on services. Join us in changing the way the world defines and views disabilities at easterseals.com/southerncal and www.wecelebrate.org.