'Round-Up' at Baker's Drive-Thru Restaurant Now Through Nov. 28
100% of Proceeds Support Local Easterseals Services for People With Disabilities
We are proud to team up once again with Baker's Drive-Thru Restaurants for our 34th Annual Fundraising Campaign.
From now until Nov. 28, the campaign asks customers to Round Up their bill to the nearest dollar to benefit ESSC services.
One hundred percent of the proceeds go to support Easterseals' life-changing services in the I.E. for children and adults with disabilities, helping individuals address life's daily challenges and achieve personal goals to live, learn, work and play.
Since 1989, Baker's Drive-Thru has raised more than $5.1 million for ESSC's disability services, much of it through its Safe Halloween coupon book campaign. Due to the pandemic in 2020, the Safe Halloween campaign evolved into the Round Up initiative and, despite strict quarantine restrictions at the time, raised more than $151,000.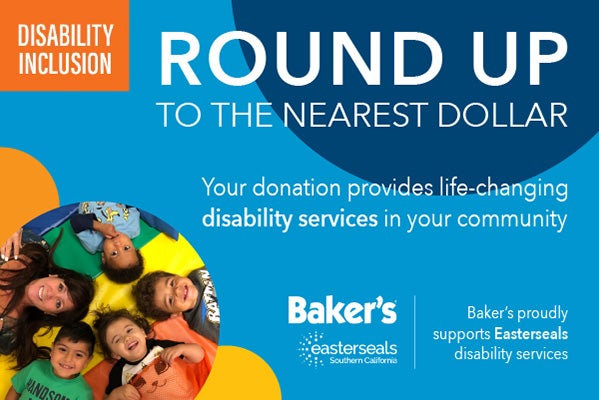 Visit a local Baker's Drive-Thru location for great food and a great opportunity to support Easterseals Disability Services!
Baker's Drive-Thru Locations
Beaumont
529 Beaumont Ave.
Bloomington
18775 Valley Blvd.
Calimesa
665 W. County Line Road
Colton
1620 W. Valley Blvd. ● 1791 Mt. Vernon Ave. ● 1310 E. Washington St.
Corona
13110 Magnolia Ave.
Fontana
8882 Sierra Ave. ● 16062 Foothill Blvd. ● 16090 Valley Blvd.
Hesperia
15083 Bear Valley Road ● 12798 Main St.
Highland Area
27352 Base Line St.
Loma Linda
24910 Redlands Blvd.
Moreno Valley
12820 Day St.
Ontario
2695 E. Inland Empire Blvd. ● 2555 S. Archibald Ave. ● 5080 E. 4th St.
Rancho Cucamonga
12009 Foothill Blvd.
Redlands
1265 W. Colton Ave. ● 663 E. Redlands Blvd.
Rialto
500 E. Foothill Blvd. ● 291 W. Base Line Road
Riverside
3522 Adams St. ● 1300 W. Blaine St. ● 6686 Indiana Ave. ● 5135 Jurupa Ave.
2221 Main St. ● 10225 Magnolia Ave. ● 5396 Mission Blvd. ● 18950 Van Buren Blvd.
San Bernardino
601 W. Highland Ave. ● 2180 N. Waterman Ave. ● 2208 Arden Ave. ● 1381 Kendall Dr.
Upland
188 E. Foothill Blvd. ● 2416 W. Arrow Route
Victorville
14321 7th St.
Yucaipa
31453 Avenue E.