Treatment Outcomes Lab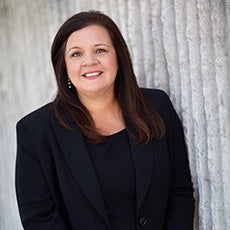 Paula Pompa Craven, Psy.D
Biography
Dr. Pompa-Craven is a licensed clinical psychologist who specializes in the assessment and diagnosis of individuals with autism and other developmental disabilities. She has been with Easterseals Southern California (ESSC) since 1995 and has supported several different service lines before becoming Vice President and Chief Clinical Officer of ESSC's Autism Therapy Services. In her current role, she supervises a staff of over 1,400, which provides weekly ABA, speech, physical and occupational therapy services to thousands of individuals with autism and their families annually.
Dr. Pompa-Craven earned a Doctorate of Psychology and master's degree in psychology at Pepperdine University and a bachelor's degree in psychology from UCLA. She was media trained through National Easterseals and has served as an Autism Network Spokesperson. Dr. Pompa-Craven has contributed to the autism and disability communities through research and article publications, conference and university presentations, meetings, trainings and workshops. She has also participated in radio, television and newspaper interviews. Dr. Pompa-Craven received Pepperdine University's Wave of Service award and Pepperdine's Graduate School of Education and Psychology's Alumni Award and served as a commencement speaker.
Dr. Pompa-Craven strongly believes that early diagnosis and treatment are keys to success for people with autism leading to expanded learning opportunities to reach developmental milestones. She works diligently to share that message and additional strategies with a wider population of families who may be faced with the challenges of autism.
Research Interests
Dr. Paula Pompa-Craven's research interests include assessing clinical outcomes, employee retention, program operations, and assessment measures. Clinical outcomes interests for individuals with autism spectrum disorder include researching gains made and improvements in life quality based on dosage, type and model. Her areas of interest surrounding retention include benchmarking industry turnover, turnover reasons and retention strategies for behavior services employees. Operational best practices using telehealth, and the social acceptability and effectiveness of telehealth platforms and assessment protocols are also current areas of focus.
Publications
Lotfizadeh, A. D., Kazemi, E., Pompa-Craven, P., & Eldevik, S. (2018). Moderate effects of low-intensity behavioral intervention. Behavior Modification, 44, https://doi.org/10.1177/0145445518796204
Background • Human Subjects Institutional Review Board • Recent Publications • Team Members • Laboratories • Continuing Education Units • Contact Us