Associate Director of Research
The Associate Director of Research assists with managing the division's daily activities, serves as a researcher, and oversees other research team members.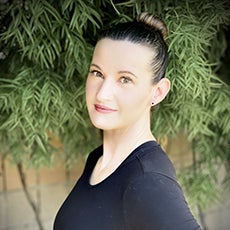 Biography
Meghan Herron is the Associate Director of Research at Easterseals Southern California. She has a Bachelor's degree in Psychology with a minor in Education & Applied Psychology from the University of California, Santa Barbara as well as a Master's degree in Counseling, Applied Behavior Analysis from California State University, Los Angeles. She has worked in the field of ABA since 2004 and became a Board Certified Behavior Analyst in 2013.
Research Interests
Meghan's research interests include Organizational Behavior Management topics such as staff retention, supervision and training. She has published her research in the Journal of Organizational Behavior Management and Behavior Analysis: Research and Practice and has presented her work at several behavior analytic conferences including CalABA, ABAI's Annual Conference, ABAI Autism, Women in Behavior Analysis, and ABAI's International Conference.
Publications
Herron, M., Lotfizadeh, A. D., & Poling, A. (2018). Using Conditioned Reinforcers to Improve Behavior-Change Skills: Clicker Training for Practitioners. Journal of Organizational Behavior Management, 38, 172-190.
Lotfizadeh, A. D., Herron, M. A., & Poling, A. (2019). Frequency of learning trials presented during trial-by-trial versus first-trial data recording. Behavior Analysis: Research and Practice. Advance online publication. doi: 10.1037/bar0000164

Background • Human Subjects Institutional Review Board • Recent Publications • Team Members • Laboratories • Continuing Education Units • Contact Us