Project Calendar and Training Webinars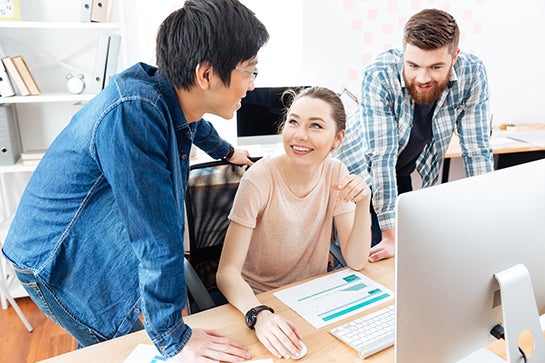 Join us for our monthly webinars to receive quality information from leading experts in disability employment.
All recorded webinars are added to the page below with captioning and translations (in process) and a link to the webinar slides.
Instructions for logging into the webinars can be found here.

January
PROJECT KICK-OFF WITH PARTNERS!

Wednesday, January 15
10:00 am to 12:00 pm
Introduction, Meet & Greet, Guidelines, Expectations, ESSC Project Webpage & App, Tool Kits
February
Tuesday, February 25, 2020 10:00 am – 12:00 pm
INTRODUCTION TO CUSTOMIZED EMPLOYMENT
Description:
This Introduction to Customized Employment (CE) will demonstrate how the methodologies of CE address the challenges of high unemployment rates, especially for people with disabilities, mental health challenges or complex support needs. This introduction will lay the foundation for avoiding comparative employment development practices and refine truly individualized approaches for success, one person at a time.
Presenter: Janet Stevely, Senior Associate – Griffin-Hammis Associates
Janet is a Senior Consultant with Griffin-Hammis Associates working on the LEAD Center Customized Employment Initiative, the Entrepreneurship Bootcamp for Veterans with Disabilities, and various other projects around customized employment and benefits planning. Since 1997, Janet has operated Workable Solutions, LLC, a consulting firm based in Ashland, Oregon which serves as an Employment Network under Social Security's Ticket to Work Program. She is a former special education teacher/transition specialist, and has worked on state and national technical assistance projects around employment and transition services. Janet is well versed in micro-enterprise development and an expert in optimizing public benefits having helped numerous individuals achieve their employment goals through Plans to Achieve Self Support (PASS).
February Webinar Video and Presentation Slides:
March
Tuesday, March 17, 2020 10:00 am - 12:00 pm
HOW YOUTH CAN GO TO WORK, KEEP SSI, OTHER BENEFITS…AND LIVE TO TELL ABOUT IT!
Description:
Sometimes, people think that if they go to work, they will automatically lose their SSI, Medicare or Medicaid/MediCal. This is a myth. Various programs and work incentives assist youth to work, save, become educated about financial options and achieve financial independence in planning for their adult lives. Work is an expectation of adult life and is possible for all youth, regardless of disability or benefit status.
Presenter: Michael Dalto, Senior Associate – Griffin-Hammis Associates
Michael Dalto is a big, old benefits geek. He's been helping people understand and use work incentives for Social Security and other benefit programs for 30 years. He has trained and assisted thousands of people with disabilities, family members and professionals to use safety nets that help ensure people get ahead financially when they work, and that protect vital benefits. He created a state benefits planning certification in Maryland, supported VR agencies in Kentucky and Minnesota to assist people they serve to work their way off SSDI, developed curriculum for Virginia Commonwealth University's national certification for benefits planners, helped create tiered benefits planning models in Michigan and Missouri, and a host of other projects. He has consulted with Griffin-Hammis Associates since 2018.
March Webinar Video and Presentation Slides:
April
Tuesday, April 28, 2020 10:00 am - 12:00 pm
ABLE ACCOUNTS: A GREAT WAY TO SAVE MONEY AND KEEP SSI AND OTHER BENEFITS

Description:
ABLE Accounts, which are tax-advantaged savings accounts for individuals with disabilities and their families, were created as a result of the passage of the Stephen Beck Jr. Achieving a Better Life Experience Act of 2014 or better known as the ABLE Act. The beneficiary of the account is the account owner, and income earned by the accounts will not be taxed. Contributions to the account, which can be made by any person (the account beneficiary, family, friends Special Needs Trust or Pooled Trust), must be made using post-taxed dollars and will not be tax deductible for purposes of federal taxes; however, some states may allow for state income tax deductions for contributions made to an ABLE account. Contributions to an ABLE account are not tax-deductible, but all investment earnings remain untaxed as long as money taken from the account is used for "qualified disability expenses." Such expenses include, among other things: Medical treatment. Education, tutoring and job training.
Presenter: Michael Dalto, Senior Associate – Griffin-Hammis Associates
April Webinar Video and Presentation Slides:
May
Tuesday, May 19, 2020 10:00 am - 12:00 pm
AFFORDABLE FUTURES: PLANNING FOR INDEPENDENT LIVING WITHIN A YOUTH'S BUDGET
Description:
To live more independently, a youth needs goals and a plan to reach them. Once a youth has chosen a goal for their living arrangements, they need to figure out how much it will cost. They need to plan a career through a job or business to have enough money, and plan for savings, to reach the goal. If they won't have enough money to reach the goal, they can adjust the goal and the plan. Transition planning for independent living can begin at any age.
Presenter: Michael Dalto, Senior Associate – Griffin-Hammis Associates
May Webinar Presentation Slides (Webinar video not available for May)

June
Wednesday, June 3, 2020 10:00 am – 12:00 pm
CUSTOMIZED EMPLOYMENT: DISCOVERY

Description:
All people, given the right support, can build meaningful and financially rewarding careers. The question is not if work is possible (it is!) but rather what work is the best fit for that person. Customized Employment is designed to answer this question, beginning with the process of Discovery. Discovery is premised on the idea that tests alone – or even the observations of long-time helping professionals – are often not the best predictors of the skills, interests, capacities, and motivations of the individual. Instead, Discovery begins by meeting people in their homes and leads to an understanding of that person's skills, interests, and supportive relationships – all of which are crucial to paving a path to employment. The Discovery process culminates with the identification of three vocational themes that become the foundation for customized job development. The process tells us what we need to know in order to shape a successful position for the job-seeker and to move forward with job development.
Presenter: Bob Niemiec, Senior Associate – Griffin-Hammis Associates
Bob Niemiec is a Senior Associate with Griffin-Hammis Associates. Bob served as the Director of the Minnesota Employment Training and Technical Assistance Center (MNTAT) and prior to joining GHA in 2009, was the Director of Employment and Community Supports for Community Involvement Programs in Minneapolis, Minnesota where he led the transformation of a traditional day program into a high-quality community employment service. Bob has provided training and consultation services in 46 states and 2 Canadian provinces as well as assisting in the planning and facilitation of Employment First events in 12 states.
Bob was a mentor for the Wisconsin Medicaid Infrastructure Grant (MIG) in their CRP Rebalancing Project and with T-TAP, a project funded by the US Department of Labor, Office of Disability Employment Policy. In these roles, Bob worked with Community Rehabilitation Programs to increase integrated employment outcomes for people with disabilities and to help manage organizational change efforts.
A graduate of Indiana University, Bob has been in the field of employment for persons with disabilities for over forty years serving in various roles from direct service to executive director. Bob has been the Chair of the Minnesota State Rehabilitation Council and a member of the Minnesota Governor's Workforce Development Council. He is a Past-President of APSE: The Association of People Supporting Employment First, a founding member and former President of Minnesota APSE, former President of the APSE Foundation, a member of the Editorial Board of The Journal of Vocational Rehabilitation, and a founding member of the Minnesota Employment First Coalition.
June Webinar Video and Presentation Slides:
July
Wednesday, July 22, 2020 10:00 am to 12:00 pm
CUSTOMIZED EMPLOYMENT: CULTIVATING COMMUNITY CONNECTIONS
Description:
Regardless of whether someone is an extrovert or an introvert, strongly connected to their local community or a loner, it is important to be conscious of the ways in which we are connected to people and places in our own lives. This consciousness is critical as we work to connect people and help develop relationships that lead to employment. Social capital, social connections or the networks of relationships among people who live and work in a particular area, are of the utmost importance to consider when pursuing employment. Making contacts and building relationships can lead to jobs or other work-related opportunities. Thoughtful networking and connecting with others provides a focused way to talk to people about individual interests, skills, strengths, abilities and can lead to employment. These connections can help to obtain leads, ideas, referrals, advice, information and support towards further relationship building and employment development.

Presenter: Marsie Hartman, Senior Associate – Griffin-Hammis Associates
Marsie Frawley is a Senior Associate at Griffin-Hammis Associates. She is the co-founder of Self Employment Resource Network. Marsie is the author of "Ready for Business Guide: Self Employment for People with Disabilities". She provides training to families, students, professionals and advocates in the area of Customized Employment; Self Employment; Transition Planning and Social Security Administration.
July Webinar Video and Presentation Slides:














August
Wednesday, August 19, 2020 10:00 am to 12:00 pm
TOOLS FOR THE WORK WORLD: SOFT SKILLS
Description:
Soft skills relate to how people work. Soft skills include interpersonal (people) skills, communication skills, listening skills, time management and empathy, among others. Employers often look for candidates with good soft skills. Depending on the type of job, someone may be excellent with technical, job-specific tasks, but if they do well managing their time or working within a team, they most likely will be even more successful in their position. Good soft skills are important to the success of most employers and businesses. After all, nearly every job requires employees to engage with others in some way. Another reason employers look for applicants with good soft skills is that soft skills are transferable skills that may be used in any job. This makes job candidates with good soft skills considered very adaptable employees. Good soft skills are particularly crucial in customer-based jobs. Unlike hard skills that are learned, soft skills are similar to emotions or insights that allow people to "read" others. These skills are much harder to learn in a traditional classroom and are better practiced in "real time", with others.

Presenter: Pearl Colbert, Clinical Supervisor & Social Skills Lead – ESSC
L. Pearl Colbert is a Board Certified Behavior Analyst and Licensed Marriage and Family Therapist. She attended California State University Dominguez Hills, graduating in 2011 with a Bachelor's Degree in psychology. During her undergraduate experience she worked as a teacher's assistant and tutor to students with developmental disabilities. She then pursued a Master's Degree with an emphasis in marriage and family therapy from Pepperdine University. During graduate school, she began working in Applied Behavior Analysis (ABA), as a behavior therapist with young children diagnosed with Autism Spectrum Disorder (ASD). It was through this work that she found her passion for working with children and families affected by ASD. She completed both her MFT hours and BCBA hours concurrently, and is now dual licensed as a marriage and family therapist (LMFT) as well as a board certified behavior analyst (BCBA). As a LMFT, she worked primarily with children and adolescents, designing intervention programs to increase quality of life in the home and school settings. She also counseled teens whose primary issues were drug addiction, LGBTQ issues, life stressors (e.g., gang involvement, abuse, etc.), depression, as well as many other mood and personality disorders. She worked with teens trying to get back into school and manage their interpersonal conflict with friends and family. Additionally, she has worked with parents, couples, and young adults experiencing a variety of daily life issues, as well as dealing with traumas of the past. Pearl joined ESSC in August 2018 and currently runs a social skills program for those affected by Autism Spectrum Disorder and provides parent/caregiver training to their families.
August Webinar Video and Presentation Slides:
September
Tuesday, September 22, 2020 10:00am to 12:00pm
CUSTOMIZED EMPLOYMENT: THE ROLE OF SOCIAL CAPITAL
Description:
Social Capital describes networks with shared norms, values and understandings that facilitate co-operation within or among groups. The idea of Social Capital refers to networks as real-world links between groups or individuals. The driving concept behind the theory of Social Capital is that a person's position within a particular group provides certain benefits that work to their advantage. Social Capital emphasizes commonality to strengthen communities. Social Capital is the effective functioning of social groups through interpersonal relationships, a shared sense of identity, a shared understanding, shared norms, shared values, trust, cooperation, and reciprocity. Social Capital is a set of shared values that allows individuals in a group to work together effectively to achieve a common purpose. Social Capital exists in a job seeker's network and can lead to potential opportunities and resources for employment. Social Capital also contributes to a company's success by building a sense of shared values and mutual respect.
Presenter: Doug Crandell, Senior Associate – Griffin-Hammis Associates
Doug Crandell has managed, staffed and directed community mental health and disability programs at the provider level for 25 years. He has been the Project Director for a number of demonstration grants funded through the U.S. Dept. of Labor, the Bureau of Justice Assistance and the Social Security Administration. He directed Georgia's Medicaid Infrastructure funded by the Centers for Medicare & Medicaid Services.
He is a Senior Consultant with Griffin-Hammis Associates and on the faculty of the Institute on Human Development and Disability at the University of Georgia. For the last four years, Doug has provided training and technical assistance to Georgia's supported providers through a joint effort with the Carl Vinson Institute of Government. He is a Subject Matter Expert (SME) with the Office of Disability Employment Policy in D.C. and is currently working with several states to restructure their employment supports to include evidence-based supported employment, customized employment, and self-employment.
Doug works in collaboration with New Mexico's UCEDD to deliver training and technical assistance under the state's Partners for Employment Initiative. Georgia was recently awarded a Disability Employment Initiative grant, which Doug will collaborate on with the Georgia Dept. of Economic Development as well as the Georgia Vocational Rehabilitation Agency, Georgia Tech, and others. As an author, Doug has published 7 books and is a regular contributor to the venerable SUN Magazine, where he publishes essays on labor, health, and disability.
September Webinar Video and Presentation Slides
















October
Thursday, October 29, 2020 1:00pm to 3:00pm
FACILITATING EMPLOYMENT: SELF-DETERMINATION & SELF-ADVOCACY
Description:

Self-determination refers to each person's ability to make choices, manage their own life and define their life's direction. Self-advocacy refers to effectively communicating, conveying, negotiating or asserting one's own interests and desires. These concepts play an important role in the overall quality of someone's life. A self-determined person knows, and fully understands, what choices are available. This promotes self-esteem and self-confidence. To achieve successful employment outcomes, job seekers actively drive and control their own employment exploration through informed choice, discovery and self-advocacy. Job seeker self-determination should drive the way that employment services are offered and coordinated. Self-advocacy and self-determination are valuable skills to promote individual success in employment.

Presenter: Julie McComas, Senior Associate – Griffin-Hammis Associates
Julie McComas has been providing individualized and customized support to people with disabilities since the early 1990s. Most recently, her work has included providing innovative direct support for job seekers and workers, as well as training and technical assistance to employers, providers, and government organizations. Julie's background in public service includes extensive work in Social Security law and policy, along with leadership in vocational rehabilitation projects and programs. She has experience in microenterprise development, organizational change leadership, adult and transition education, person-centered planning, and customized long term supports for work success.
October Webinar Video and Presentation Slides
November
Thursday, November 5, 2020 10:00 am to 12:00 pm
CUSTOMIZED EMPLOYMENT FIDELITY
Description:
Fidelity refers to precision, accuracy and the degree of exactness with which something is reproduced. Customized Employment begins with the process of Discovery, which tells us what we need to know in order to shape a successful position for a job seeker. Customized Job Development begins by following a Discovery plan and differs from the traditional practice of finding jobs and filling employer vacancies. Customized Job Development entails negotiating employment that both utilizes the employment-seeker's skills and capacities, and addresses business needs. With a customized approach, businesses hire individuals because it benefits the business. To ensure successful outcomes via a customized approach, Customized Employment must be conducted with fidelity.
Presenter: Stephen Hall Ph.D., Director of Employment Policy and Research– Griffin-Hammis Associates
Stephen Hall Ph.D. is the Director of Employment Policy and Research with Griffin-Hammis Associates. Stephen has a Ph.D. in Disability Policy and Adult Education from the Rehabilitation Research and Training Center on Supported Employment and Workplace Supports at Virginia Commonwealth University.
Stephen has strong relationships with state and federal government leaders, universities, and provider and advocacy organizations. He is a former Commissioner of Behavioral Health, State Director of Developmental Disabilities, and CEO of two Community Provider Organizations. Dr. Hall was a Subject Matter Expert with the Office of Disability and Employment Policy. He was a member of the National Association of Developmental Disabilities Directors, President-elect, and Chair of the Research Committee for seven years.
Stephen has been a presenter or keynote speaker at national conferences, state conferences, and town hall meetings. His interview with Governing was published in January 2013. Using Research Evidence to Inform Public Policy was co-authored with Charles Mosely and others and was published in the Journal of Intellectual and Developmental Disabilities in October 2013. He has received numerous Governor appointments to Boards and Commissions and awards for his work. In 2012, Stephen received a state award for his partnership with Vocational Rehabilitation to ensure the employment of persons with disabilities. He received an award and was recognized by a United States Senator for Ethical Leadership in 2013.
November Webinar Video and Presentation Slides