Sutton's Journey
How did you discover that your child had special needs?
Sutton was born at 24 + 1 weeks gestation. He suffered a grade IV intraventricular hemorrhage due to a difficult delivery. He spent 141 days in the MUSC Children's Hospital. He went home one month after his due date. Sutton required oxygen support while in the hospital and for several months after coming home. Sutton has hydrocephalus due to his brain bleed and has a VP Shunt. We were told that Sutton could have some complications due to his prematurity when I went into labor.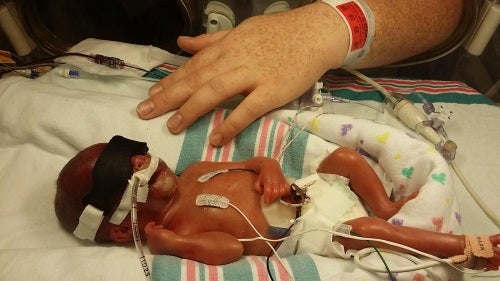 How did you learn about Easterseals?
I learned about Easterseals from our wonderful physical therapist, Marissa Slate.
How do you feel your child is doing now in comparison to when they first started their journey? What are they able to do now that they were not able to do before?
Sutton is doing remarkably well. We have been seeing Marissa for a year now and his progress since last year has been outstanding. Sutton had a very weak core and could not walk without pushing a walker toy or holding onto to something. Sutton has gained strength and is able to walk unassisted for the most part. He does walk on his tip toes. With the help of night splints, we are seeing progress daily. Since his gross motor has become more developed he has exploded in the fine motor area. Sutton is talking and putting 3-word sentences together. Since the beginning of 2018 until now Sutton has made the biggest developmental jump since he has started this journey. All in all, we are very happy with his progress and can't wait to see what other challenges and obstacles he will overcome.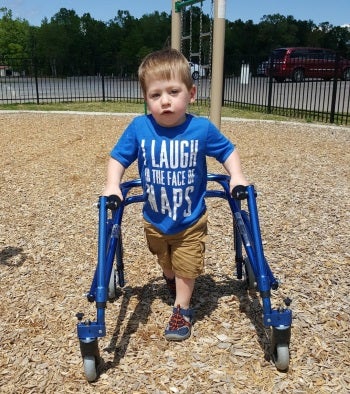 What kinds of support have been most helpful to you and why? (family, support groups, Therapists, Early Interventionist, etc.)
We have had an amazing support system since the day I went into labor with Sutton. Our family has been wonderful and has helped and learned how to care for Sutton with us. Sutton has three wonderful therapists. I do not know where we would be if it was not for them. They each have educated us on how to help our sweet boy grow and learn with his disabilities. Our early interventionist has guided us in the right direction to the best resources. We are enterally grateful for everyone that has helped and guided us during this process. This is a team effort. It truly takes a village.