Rosey's Story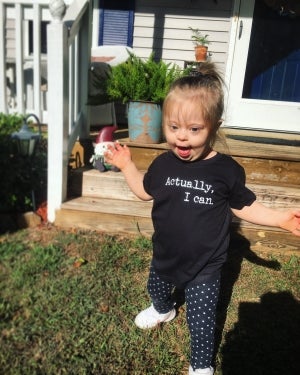 Meet Rosey Deason. Rosey is a fun, loving, energetic three year old diagnosed with Down Syndrome. Learn more about Rosey's journey and how she has improved since receiving early intervention and therapy services.

Rosey's parents, Jacob and Amanda Deason, were excited to find out the gender of their baby at their 17 week appointment. They found out that they were carrying a little girl and the ultrasound also revealed that the baby had a cystic hygroma on her neck. The family was sent to another doctor in order to follow up on the findings of the ultrasound. The doctor performed an amniocentesis and diagnosed Rosey with Down Syndrome. A few months later during an ultrasound, the family was also informed that Rosey had a heart defect called AV Canal that would eventually require surgery after birth. Rosey was routinely monitored by several doctors and Amanda was required to have monthly ultrasounds to check on Rosey's growth and well-being until birth.

Rosey was born the following September. Rosey's cystic hygroma on her neck had disappeared, but she was cared for in the NICU for the first week of her life. Rosey had a difficult time gaining weight and was not thriving as she should be due to the heart condition. At the age of six months and only weighing nine pounds, Rosey had her first heart surgery to correct the chambers of her heart. Rosey did well throughout the surgery and was able to go home just 3 days following a major heart surgery! Rosey has done well and has not required any other surgeries for her heart condition thus far.
The NICU at the hospital informed the family of Early Intervention services. Rosey's Mom researched various companies and decided to pursue services with Easterseals. Rosey started receiving early intervention services and therapy services when she was just 8 months old. Fast forward a few years and Rosey has surpassed many goals set before her. Rosey recently started walking on Mother's Day of 2018. Her receptive language skills have improved greatly and she is using many signs to communicate with her family. She has started imitating words with her signs and can say Ma-Ma and Da-Da.
Rosey has gained much support from Easterseals for early intervention and Hands of Hope for physical, occupational, and speech therapy services. Amanda and Jacob also stay in touch with other families who have children with similar abilities to Rosey's. With the support from these resources, the love of her family, and determination, Rosey has obtained many goals put in her path and is a happy and healthy little girl!