Letter from Nathan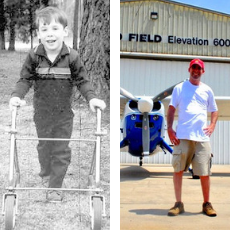 We recently received a letter from Nathan, who was an Easterseals poster child in 1985. Our CEO was so touched that Nathan shared his story with us that we thought others would benefit from hearing his story. This why we do what we do and why we have been doing it since 1934!
Dear Deanna,
I recently received the Easter Seals calendar in the mail. Thanks for sending it. Easter Seals means a lot to me because I benefited from its services for many years. I was born three months premature in 1980. Due to my premature birth, I had very serious issues and at a year old I was diagnosed with Cerebral Palsy. My parents were very low income and had no way to pay for physical therapy. So twice a week we would pack our big Buick Skylark and take the trip from Lancaster to Columbia, and back again, for me to receive physical therapy.
In 1985, I was selected as an Easter Seals poster child. It is something I will never forget. My photo was on the front page of the State newspaper highlighting Easter Seals in the spring of that year. Later on I learned how to walk with a walker, then without a walker, then learned how to ride a bike at ten years old. As a teenager, I became fascinated with aviation, and began taking flying lessons at 19. I obtained an FAA medical certificate in 2003 and solo'd in 2004. I still fly airplanes today.
In the past few years I completed a degree in communications, have married, and my wife, Karen, and I have a wonderful baby girl, Hannah, who is fourteen months old.
I am still so very grateful for the services provided to me by Easter Seals and know I would not have been as successful in life without their help early on. It's been many years since I've been to the Columbia Easter Seals office and would love to pay you a visit and meet you, and the staff, in person.
Warm Regards,
Nathan