Junior's Story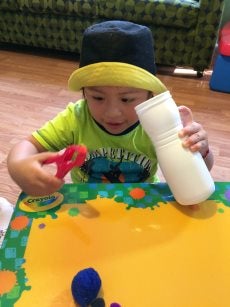 Steven aka "Junior" has come a long way! Mom shares a little bit about just all he can do now thanks to Easterseals!



How did you discover that your child had special needs? Junior wasn't sitting, walking or crawling at 1yr old. He also wasn't talking so I asked my doctor and they referred me to BabyNet.
How did you learn about Easterseals South Carolina? My Occupational Therapist works with Easterseals.
How do you feel your child is doing now in comparison to when they first started their journey? What is he able to do now that he was not able to do before? Junior is showing a lot of progress and it makes me very happy! He is opening his hands, stretching them on his own and letting me help. He is playing with toys using both hands instead of keeping that one at his side. He also helps getting himself dressed now too. He's walking with his walker or holding my hands. He can sit with his legs straight or crisscrossed too!
What kinds of support have been most helpful to you and why? Our Occupational therapists has been most supportive to Junior. She talks to him while he plays and he loves to see her every week. The translator provided by BabyNet, Gladys, she has helped us work on Junior's language. He is talking more each day in Spanish and English.