Jamison's Story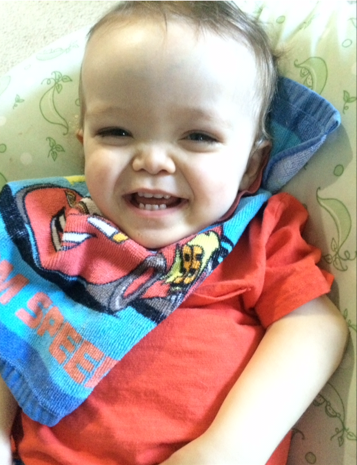 We sat down and talked with Jamison's mom about his journey with Easterseals.
How did you discover that your child had special needs?
MUSC before birth while I was 24 weeks pregnant. We were told it could be so many different things but wouldn't know exactly until after birth, Jamison has Larsen's syndrome. Which in his case affect his hearing/speech. He was born with bilateral clubbed feet, malrotated left knee, hip dysplasia, right shoulder is unstable and shortened humerus.

How did you learn about Easterseals?
Our Early Interventionist Jennifer, who works for BabyNet told me about Easterseals.

How do you feel your child is doing now in comparison to when they first started their journey? What are they able to do now that they were not able to do before?
Jamison has come a long way since birth. He has been serial cased since birth for knee and feet. He has had surgery on his knee, feet, and hips. He just came out of a body cast from his surgery and is currently in a rhino brace. He has been doing speech for a while now and is doing wonderfully with it. He has made so much progress with what he says and also learned sign language for words he can't say yet. He is a very smart, love, and strong child. Jamison has come so far in his first 2 years of life and we keep tackling the obstacles ahead of us! He is truly amazing!

What kids of support have been most helpful to you and why?
All of Jamison's therapist, EI's, and Doctors are wonderful and very supportive. Our family has been wonderful and very supportive through his entire journey. We are very blessed to have so many wonderful loving people in our life.