Early Intervention
Early Intervention is a system of services that help babies and toddlers with developmental delays and/or disabilities. Early Intervention focuses on helping eligible babies/toddlers and their families learn basic and brand-new skills that typically develop during the critical first five years of life. Easterseals South Carolina offers Early Intervention services to children and their families statewide through our Early Intervention Specialists.

The Easterseals Early Intervention Specialist offers individualized services that:
• Teach and guide parents toward necessary supports and services to meet their specific child and family needs
• Help parents learn about their child's individual developmental strengths and needs in order to maximize opportunities to participate in their home and community activities
• Provide parents with family-centered, routines- based activities that will enhance their child's overall developmental progress and future outcomes
Easterseals also provides Service Coordination activities that assist families in accessing resources and agencies that can provide support in helping a family reach their goals.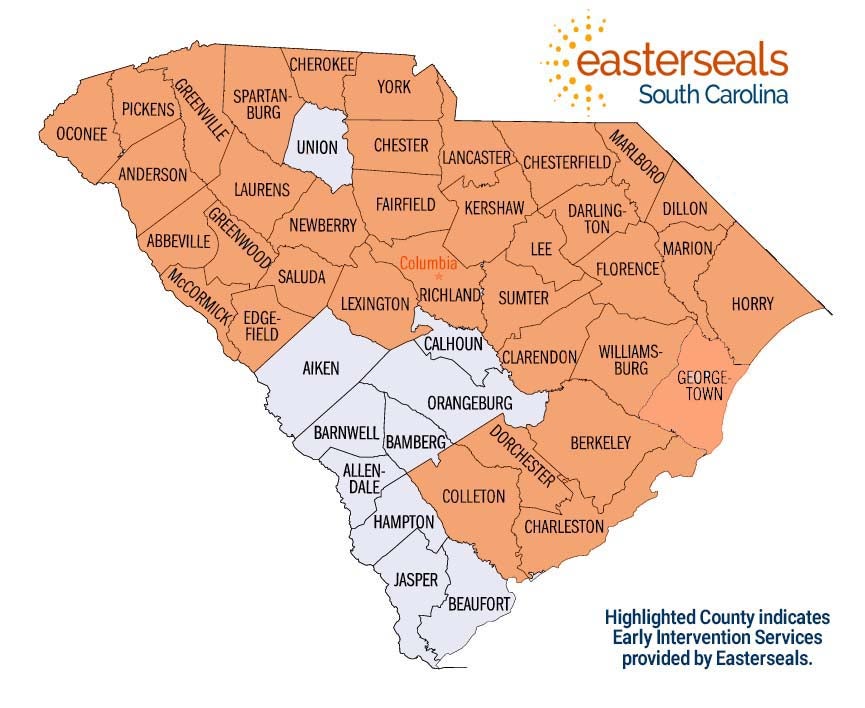 We currently provide Early Intervention is 35 of the 46 counties in South Carolina!
Click here for the DDSN Appeals Process Directive
Click here for the Application for DDSN Respite Funds
Click here for the Application for DDSN Family Support Funds
Click here to download our privacy policy (.doc)
Click here to download our grievance procedures (.doc)
Click here to complete our Photography Release
Click here to meet our Early Intervention team
Contact us for more information, Karen Larson, Director of Early Intervention 803- 372-9425 or Fax: 877-233-9288 klarson@sc.easterseals.com