Method Matters-Benefits of the ECI Model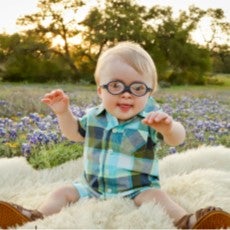 By Emily Hepworth
Our son Ethan is 17 months old. We learned before Ethan was born that he would be born with Down Syndrome, but we didn't know that he would make his entrance into the world 9 weeks early and that we would spend 88 days in the NICU getting prepared to come home. Once home, Ethan began in home therapy. After 3 months, we were not pleased with the lack of progress being made, so with the help of our Dr, we switched to Easter Seals. Around the time we switched, Ethan was also diagnosed with a seizure disorder. We are so thankful that happened after the switch, because our therapists at Easter Seals knew exactly how to handle it.
We have seen Ethan make such big improvements as he has worked hard with loving Speech, Occupational, and Physical Therapists at Easter Seals. We understand that therapy will be an integral part of Ethan's life for the foreseeable future. Kathryn, Debra, and Anne come each week and help Ethan learn and grow. They help us set and achieve goals that improve Ethan's life. One of the things that I love about Easter Seals is their technique to include parents in the therapy. This helps me to continue his therapies throughout the week as we work with Ethan. Our therapists are also thoughtful enough to include our older son with his brother's therapies
These amazing ladies have become a part of our family. We know that the foundation they are setting with Ethan will set him up for success throughout his life and we are forever grateful for them and Easter Seals.