How One Veteran Uses Connections, Community to Support Fellow Veterans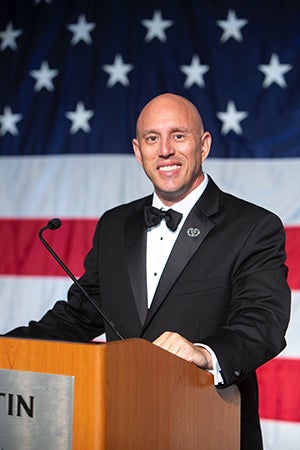 As a veteran, Tim Stroud of Easterseals Greater Houston saw firsthand the barriers our servicemen and women face when transitioning from military to civilian life. As the first person in his unit to come home from Iraq in the early 2000s, he was struck by the lack of support available for veterans like him. It was at a funeral, as he gave a eulogy for a friend from the military, that Tim realized it was his calling to connect veterans with each other and to services in their communities.
Ever since, Tim has been an instrumental leader in bridging national and local veterans organizations to the people who need them.
"A lot of veterans come back and look for resources. They're looking for financial literacy; they're looking to replace the benefits they received when they served; they're looking for their next vocation; they're looking for their tribe," Tim shared. "Veterans deserve nothing less than a launch pad for success."
Tim explained that by "tribe" he means a community of veterans who lift each other up and are there for one another. Tim ensures this is accomplished by organizing volunteer opportunities for veterans and their families, with the purpose of serving their community and connecting over a shared experience. These projects vary from putting wreaths on veterans' graves, feeding their local homeless population, and flying flags during the holiday season to honor veterans' service and sacrifice.
During Hurricane Harvey, Tim worked with several veterans Easterseals Greater Houston serves to rescue 203 people (he remembers that number vividly) from the flood and from their homes over the course of three days. In the aftermath, they banded together to make sure veterans and their family members were taken care of as quickly as possible. They moved people to facilities with clean air and helped repair damaged homes. Easterseals Houston assembled a 13-member response team to address the unprecedented flood including case managers, mental health and housing experts.
Tim is part of Easterseals Greater Houston's larger Veterans Program, Texas Veterans + Family Alliance, which provides mental health, case management, supported employment and financial coaching. In addition to these resources, Easterseals Greater Houston provides two veterans per year with a fully trained service dog. Tim's support dog is named Colton (or, Colton the Wonder Dog, pictured right). Thinking back to a previous recipient, Tim recalled a Marine who faced severe stress that prevented him from participating in activities that were integral to his life, like going to church or maintaining a career. After being matched with a service dog, Tim said he began seeing the Marine showing up to church every Sunday, landing a job and promotion, and volunteering.
When asked what the greatest barrier veterans face upon transitioning to civilian life, he said simply that there is no one single obstacle. With each veteran, it's important to look at where they are headed to ensure they're set on the path to success, whether that is obtaining a commercial driver's license to become a truck driver, or using their leadership skills in the corporate world.
Tim noted that the veterans services at Easterseals Greater Houston are there for the whole family: "When someone has Post Traumatic Stress Disorder or Traumatic Brain Injury, you can't treat just one member of the family. We need to make sure the entire family is on the healthy path."
Above all, Tim strives to give veterans the support and respect they so deserve. Each and every day, he puts in the work to make sure that the men and women who served our country are honored. When asked the best way we can thank a veteran, he said to listen to their stories, say thank you, shake their hands, and volunteer.
"We look at [what we do] like water. Water can be devastating when you have too much of it, but when you focus the water, it can cut through steel. We're focusing and doing some amazing things."