The SCSEP Participant Experience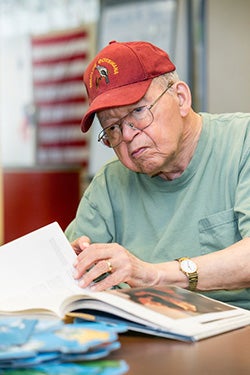 Mature workers have so much to offer as members of today's workforce. While they possess the work ethic, loyalty and life experience necessary to be assets to any workplace, what they often lack is opportunity.
What is SCSEP?
Easterseals Senior Community Service Employment Program (SCSEP) is funded by the U.S. Department of Labor and is a program that provides job training and employment opportunities for eligible individuals age 55 and older. Our goal is to help participants gain the skills necessary to obtain permanent employment, helping mature workers achieve economic independence and an improved lifestyle. Many mature workers have challenges to overcome before they find employment. Some of these include stereotypes related to age, transportation, housing, work experience, disability, income, self-esteem, language, health, and education. Easterseals SCSEP helps participants rise above those obstacles by providing opportunities to enhance existing skills, train for a new career, and find a rewarding job.
How does SCSEP work?
Individual Employment Plans (IEP)
Easterseals SCSEP staff creates an Individual Employment Plan (IEP) for each participant based on his or her existing skills, employment barriers and training needs. The IEP helps participants realize their full potential by enabling them to adapt years of life experience into valuable workplace qualifications.
Community Service Assignments
Guided by his or her IEP, each participant is assigned to a subsidized Community Service Assignment at an Easterseals SCSEP host agency, a local non-profit or governmental agency that provides hands-on job training for about 20 hours per week. These assignments give participants the kind of work experience they cannot get in the classroom, ensuring they will be prepared for the unique requirements of employment in today's workforce.
Other Career Resources
Participants also receive help developing a resume, practice their interviewing skills and obtaining potential job leads to improve their chances of landing a job and increasing the pool of highly motivated and qualified mature workers.
Who is eligible for SCSEP?
We serve over 3,000 individuals each year who enroll in our program for a variety of reasons. Some have retired and want stay active. Others have been laid off from long-term jobs. Still others wish to re-enter the workforce after raising a family or experiencing a change in their financial status. Regardless of their reason, SCSEP participants are eager to put their experience and skills to work. To be eligible for Easterseals SCSEP, applicants must: • Be 55 years of age or older • Reside in the state where he or she is enrolled in Easterseals SCSEP • Have limited or low income • Be unemployed
With SCSEP, everyone wins
Mature workers benefit from training and skills that help them reenter the work force, as well as remain engaged and visible in their community. Host agencies have access to trainees who are eager to learn and contribute to the success of their programs. Employers can hire qualified candidates with flexible schedules, maturity and a strong work ethic.