SCSEP Information for Employers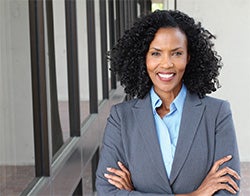 Finding the kind of employee that can help take your business to the top of its game is never easy. Factor in the recent economic downturn and many companies are finding that, along with decreasing profits and a shrinking workforce, employee productivity is declining.
Now, more than ever, hiring workers who are loyal, efficient and productive can mean the difference between companies that are competitive and companies that aren't.
The good news is you can find the caliber of employee you're looking for if you expand your search to include a previously under-utilized pool of talent — those 55 and older. Bringing valuable qualities such as experience, enthusiasm and loyalty to the workplace, these workers can play an important role in improving productivity in your organization.
How can your business reach this untapped resource? That's where a partnership with the Easterseals Senior Community Service Employment Program (SCSEP) comes in.
What is the Senior Community Service Employment Program (SCSEP)?
Easterseals SCSEP is a program that offers free job placement services for individuals 55 and older, which can offer your business:
No-cost access to pre-screened candidates
Possible reimbursement of first 30 days wages ($2,000+ potential savings)
Tax credit assistance
Assistance in diversifying your workforce
Job-related follow-up consulting and coaching
Spanish language support
Computer skills training


Why partner with Easterseals SCSEP?
Mature workers are becoming an increasingly important segment of today's workforce.
Experienced, motivated and dependable, these individuals have a uniquely strong work ethic that many of the nation's leading corporations are now recognizing as key contributors to their success. By partnering with Easterseals, your business can:
Improve effectiveness and efficiency among employees
Enhance productivity within your organization
Promote a more positive culture in the workplace
Increase profitability
Demonstrate a commitment to the community
Want to learn more?
We'd like to extend this opportunity for you to partner with us and reap the rewards of hiring an experienced, trained worker to meet your business needs. To learn more, call 800-221-6827.