Small Business, Big Impact: How Microenterprises Bridge the Employment Gap
by: Roxana Mena
Great things come in small packages, or as is the case at Easterseals, small businesses! While you may have heard that Easterseals trains and supports people with disabilities to prepare for and enter the workforce, did you know that many of our locations have also set up small businesses (also known as microenterprises)? These microenterprises seek to help people with disabilities find steady, meaningful employment and create a work model that is accessible to everyone.
Here is the best part: You can support these efforts to reduce the unemployment rate for people with disabilities while also buying unique, memorable and creative gifts for your loved ones (or yourself – you deserve it!)
Capper Creations (Easterseals Capper Foundation)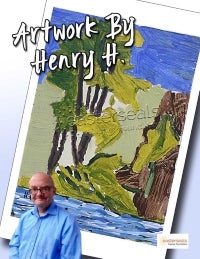 Easterseals Capper Foundation in Topeka, Kansas, sells the creations of their artists on Etsy and their website. The gifts you can find here consist of paintings, aromas, and lotions. This allows people with disabilities to not only express themselves creatively, but also it gives them the ability to sell their work.
Let Henry's colorful impressionist style brighten any office or home!
"Capper Creations Gift Shop is the go to place to purchase unique artwork, greeting cards, candles, soaps, lotions, and much more made by persons supported in our Adult Services art studio. Custom furniture is also available to order or purchase a showroom model."
HarrysButtons.com at Easterseals (Easterseals Serving Chicagoland and Rockford)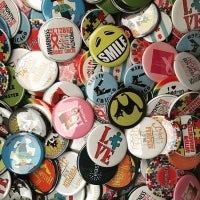 In 1998, Harry Egnell Jr. had just graduated high school, and transitioning into the workforce proved to be difficult for a young person with autism. He enjoyed repetitive tasks, so he started making buttons and eventually his friends, who also had autism, joined. This was the start of HarrysButtons, a small business which gives people with disabilities the ability to enter the workforce.
On their website, you can find buttons, magnets, keychains, bracelets, pendants, and picture frames. All these products create opportunities. The buttons are unique, and the bracelets and pendants are interchangeable. They will also create a gorgeous photo frame composed of 24 of your favorite photos.
HarrysButtons a social enterprise within itself, Bubble2Work. Gumball machines are distributed to local businesses free of charge. "Each gumball machine is placed in the community by a team of individuals with autism. Our team refills machines, collect the earnings, maintains machines, inventory and sales records and learn the basics of running their own business."
Inside Out Studio Art and Building Value (Easterseals Serving Greater Cincinnati)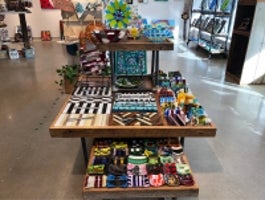 Inside Out Studio Art and Easterseals Greater Cincinnati provide people with disabilities the opportunity to develop their own ideas to live, work, and learn in the community. Artists get the opportunity to express themselves artistically and produce something that they are proud of which and will eventually become income.
Vibrant colors, eye-catching designs, and individual style all compose the works made by people at Inside Out Studio Art. Not only are these products available for purchase, they also offer custom creations. "Let our artists create a custom piece of artwork for you that will stand heads and shoulders above the standard plaques and trophies."
In addition to Inside Out Studio Art, Easterseals Serving Greater Cincinnati also employs people with disabilities through its construction training program, Building Value. The program aims to provide hands-on training through a 3-6 month period, where individuals get "on-the-job training and industry recognized certifications."
Sage Ceramics (Easterseals Blake Foundation)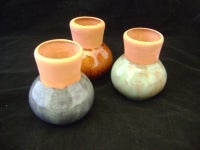 Operated by Easterseals Blake Employment & Community Living, Sage Ceramics provides employment opportunities for individuals with developmental disabilities, who design, manufacture, and sell a variety of handcrafted ceramics.
Explore the southwest-style designs available for purchase.
Easterseals Blake Foundation is dedicated to the vison of a Southern Arizona community where all people live healthy, productive and independent lives. Based in Tucson, EBF serves more than 30,000 adults, children and families annually throughout 10 counties in Arizona.
Fine Art America (Easterseals Southwest Florida)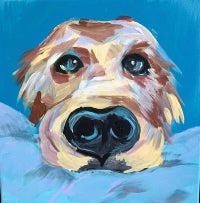 Easterseals teamed up with Fine Art America to make way for their artists to be able to sell their work on an easy-to-use platform. You can find a wide array of prints, made in different materials.
This dog was painted by Cindy B, isn't that a cute dog?