Why One Family Chose Inclusive Childcare for Their Typically Developing Children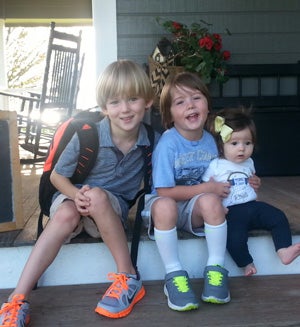 Lindsay Roberts remembers a defining moment at her 4-year-old son Wyatt's school party.
She sat quietly with the other parents as she watched Wyatt run and greet one of his classmates who uses a wheelchair. That simple moment affirmed that she made the right decision in sending him to an Easterseals early childhood education center, even though he doesn't have a disability.
Although Wyatt is a typically developing child and his friend has a disability, neither one of them notices the difference. All that matters is that they are friends.
This is common at Easterseals' inclusive daycare centers across the nation. Although Lindsay and her husband, Heath, have typically developing children, this is one of the reasons why they chose to enroll their kids, Wesley, 6, Wyatt, 4, and Willow, 13 months, at Easterseals Midwest's Early Education Center.
Like many parents, Lindsay and her husband, who live in the Kansas City area, were looking for a safe and diverse daycare for their oldest son, Wesley, who was 2 years old at the time, but they found even more than they expected during their visit.
"The classroom sizes were also much smaller and I felt like they would be very attentive to each child's individual needs," Lindsay says.
All three of Lindsay and Heath's children are typically developing, but a major selling point for Lindsay was the fact that the Early Education Center provides inclusive childcare for children of all abilities.
"I loved that they were going to be around other kids who do have developmental disabilities," Lindsay says. "I feel like that can show them that everyone is different, and it teaches them compassion."
Although Lindsay was pleased with the benefits of her new daycare, finding childcare hadn't always been easy.
She and Heath enrolled Wesley in another local daycare before discovering Easterseals, but it didn't last long. Lindsay says the daycare was extremely disorganized and the classroom sizes were too large. She was even a little concerned for Wesley's safety.
The Roberts are so glad they found the Easterseals Early Education Center. Today, Wesley has "graduated" from the daycare and is in the first grade, and Wyatt and Willow now attend the preschool.
And 4-year-old Wyatt is writing his name already! "When I took Wyatt to his doctor's appointment, [the doctor] was very surprised at how advanced he was," Lindsay says. "And I think a lot of that is contributed to the fact that the teachers at Easterseals have a daily plan for each of the children and really focus on [each child's] needs."
Most important, Lindsay really loves the person that Wyatt is becoming thanks to Easterseals inclusive childcare model.
"Wyatt doesn't really see [children with disabilities] any differently than himself," Lindsay says. "They're his friends and they accept each other, and that's powerful in itself."
Learn how the Easterseals childcare model helped two families.
Read more on inclusive childcare here.
Looking for childcare options for your child? Start here.