A.C. Moore Crafting a Better World 2019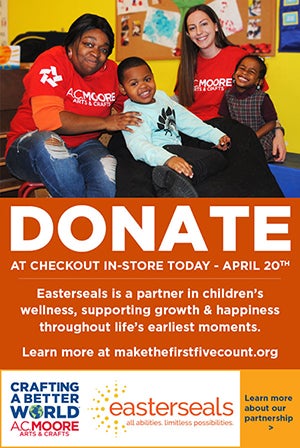 Did you know Easterseals is teaming up with A.C. Moore this spring for their annual Crafting a Better World campaign?
Consumers visiting A.C. Moore stores from April 7 - April 20 can donate to Easterseals Make the First Five Count® initiative at checkout. Funds raised during the campaign support Easterseals services which help assure young children get the best start in life so they can reach their full potential. Since launching the campaign as part of its Crafting a Better World program in 2010, A.C. Moore customers and store team members have raised over $1 million for Easterseals.
What: A.C. Moore Crafting a Better World Campaign
Why: To support young children in your community
When: April 7 - April 20
Where: A.C. Moore Stores
Together, A.C. Moore and Easterseals are igniting a movement designed to unite all parents and children through craft and cause. Not only are crafts a fun activity for kids, crafts can also help children learn important skills that affect their overall development. And when parents craft with their kids, they are able to observe their children's developmental progress.