Ron's Path to Reintegration, Post-Incarceration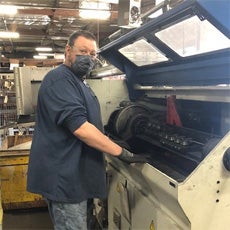 Ron was called to active duty in 2003 and trained in Chemical Warfare. As a Sergeant, he worked as a Diesel Mechanic and drove convoys in Iraq. He was deployed in Iraq for Operation Noble Eagle, in the War on Terror. He received an honorable discharge and worked for the National Guard until 2008.
The Challenge of Reintegrating... Twice
Ron's experience in the army left him with many emotional difficulties and barriers. He couldn't drive without looking for Improvised Explosive Devices (IED), everywhere he went. He also had trouble riding the bus, because he was not comfortable around large groups of people. As if the barriers he faced weren't challenging already, Ron got into trouble with the law, and he ended up incarcerated for over 12 years. He was just released in 2020, and this was a very difficult transition for him. Ron had spent most of his adult life in the Army or in prison, which made it extremely challenging to reintegrate. Throughout the last year, he has worked with multiple agencies to help him turn his life around.
A Collaborative Solution
Ron's journey is a stark example of how Veteran services can be a collaborative community effort; in which, each organization provides a part of the holistic solution for the Veteran in need.
First, Ron worked with an organization called Bridges to Change. They helped him connect to the mental health services he needed. Ron now has regular treatment with Clackamas County Mental Health, because of the assistance provided by Bridges to Change. He credits them with helping him learn how to safely ride in a bus.
Bridges to Change referred Ron to Gina, a Veterans Specialist who helped him access the benefits available to him as a US Army Veteran.
Next, Gina introduced Ron to Ken, from Community Solutions. Community Solutions helped Ron get onto I-Match, and they ultimately connected Ron to the job opening he would later accept.
Finally, Ken referred Ron to our Homeless Veterans Reintegration Program (HVRP) Employment Specialist, Maureen, to help with his job search and employment training.
A Team Effort Pans Out
After getting Ron connected to all of the appropriate resources to ensure a well-rounded solution, it finally started coming together. Ken was contacted by a potential employer for Ron; and when Ken explained Ron's background and barriers, the employer stated he would be happy to consider Ron for employment, as long as he could start immediately after being offered a position.
Ken helped Ron get to the interview, and Ron was hired on the spot! His full-time position offer included 40 hours a week at $15 an hour. He accepted the position as a Tack Welder, putting together wire products, using welding tools and large industrial machines.
Maureen provided Ron with the work clothes he needed for his new position, along with a bus pass for his first month on the job. Ron told our team that this help was extremely beneficial - otherwise he would have been wearing old ripped up jeans to work, and he would have struggled with transportation.
Finally, A Stable Foundation
Ron has come a long way since his release from incarceration. He now has a job to go to, and he takes the bus without fear. He is feeling a sense of accomplishment just to be working on a regular basis. He is making a product that is used all over the world, and many of the wire display cases that he builds are used in Fred Meyer's, Home Depot and Lowes locations. Ron's new employer also makes products used in the defense industry, including wire face masks for close-combat training. During his post-hire check-ins, Rob has reported that he is working well with his co-workers, learning to be social, and enjoying it.
Ron will be staying in his transitional apartment for the remainder of his 36 months of probation. This job satisfies the conditions of his probation, and it helps him begin to move forward with his life in a positive manner. Soon, he will be able to save enough money to find an apartment or possibly put a down-payment on a modest home. He is looking forward to being completely independent. He told our team that his advice to other Veterans is, "keep your nose clean and keep plugging away, and it will always pan out."
If you or anyone you know is a US Military Veteran who is homeless or at risk of homelessness, please contact us by clicking here to learn how we can help!
Click here for more Stories of Hope like this one, or follow us on Facebook and Instagram by clicking the logos below.
---