Robert's Veteran Housing Assistance Journey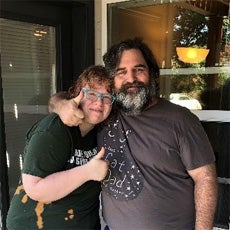 Robert, Army Achievement and National Defense Service medalist, is a retired Veteran who served honorably from 1991 to 2003 with the United States Army. Since getting married, Robert and his wife had lived on his wife's mother's couch; however, they could not stay long. In June of 2021, the couple was enrolled in our Supportive Services for Veteran Families (SSVF) program by Case Manager, Ryan Olsen, for housing assistance.
Taking the Time to Do It Right
When Ryan first met Robert and his wife, they were at a crossroads with housing and had a lot of ambivalence towards their next steps. With Ryan's help, they took the time to lay out all of their options, weigh the pros and cons, and look at the available resources with each choice. After going over all of their options, they decided that they were ready to jump into finding housing with SSVF support, in the Portland area. After they decided on a location, they began a rigorous housing search and took many tours. At the perfect time, an opportunity arose with an apartment that they had submitted a waitlist application for, earlier in the year.
Hard Work Finally Pays Off
On July 19th, they received a call from Berry Ridge Apartments in Gresham, letting them know that they were up on the waitlist, and that there was an available unit ready for them. Immediately, we set up a tour; and after the tour, Ryan helped them fill out an application. Robert and his wife expressed that this would be the perfect place for them to call home. On August 6th, they received the keys to their new home, and they excitedly moved in.
Shortly after Robert and his wife were approved for their new home, Ryan was notified by Home Forward that the couple was approved for a housing voucher, assisting the family with long-term rent assistance in their new home!
Shifting Focus to a Bright Future
Now that Robert and his wife have stable housing, Robert can shift his focus to working with his Veterans Affairs Case Worker to attain stable income. Since moving in, Robert and his wife have shared nothing but gratitude for all that the Easterseals Oregon SSVF program has done to help their family achieve their goal of stable housing, and we can't help but reciprocate this gratitude for all of the hard word they put in along the way! Great work!
If you or anyone you know is a US Military Veteran who is homeless or at risk of homelessness, please contact us by clicking here to learn how we can help!
For more Stories of Hope like this one, follow us on Facebook and Instagram by clicking the logos below.
---
Contact Us Locations Partnerships Donate