Overcoming Loss and Regaining Stability - Paul's Story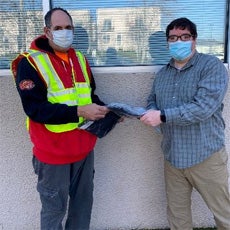 Paul is a US Army Veteran who was born and raised in Honolulu, Hawaii. After Paul finished high school, he went straight into the US Army, based on a suggestion from his parents. While he was enlisted in the Army, Paul specialized as a Multichannel Communication Systems Operator for seven months. After he was honorably discharged from the military, he became a bouncer at a nightclub in Hawaii, where he led a life that was adventurous and full of outdoor excursions.
Tragedy Disrupts Stability
After moving to Medford, Oregon, Paul unfortunately experienced the traumatic loss of both his fiancé and his daughter. The effects of this incredible trauma manifested into poor mental and physical health for Paul. While struggling to cope with this situation, Paul experienced a financial downfall, and that was the final piece that caused him to lose his housing.
Seeking Help for a New Start
Feeling hopeless and helpless, Paul reached out to the Easterseals Oregon Medford Homeless Veterans Reintegration Program (HVRP) to see if they had a similar program in Portland, as he was relocating to Portland for treatment. Our Medford staff made the referral to our Portland HVRP office, where Paul was hoping to seek employment assistance after completing addiction treatment. Once in Portland, Paul went into treatment and started a mentorship program with Central City Concern to help him achieve and maintain sobriety. At the end of his treatment program, Paul began his employment assistance enrollment process with our Portland HVRP staff. Now that he had achieved sobriety and started the process to find stable employment, Paul was back on track to stability and safety for the first time in a long time.
Building the Path to Employment
Paul was paired with our Employment Specialist, Ryan Wolff, so he could establish career interests, discuss existing skillsets, and build an actionable plan to gain employment. During his many conversations with Ryan, Paul was able to narrow down his search to a few job interests. This gave his search some necessary structure and direction. Next, our team helped Paul obtain a laptop and interview clothing, so he could effectively build his resume, search for opportunities, and communicate with prospective employers. While guiding him through his job-search, Ryan helped Paul update his resume and provided vocational counseling that eventually led to a direct referral to one of our employer contacts: Portland International Airport (PDX). Just a week after making this connection, a job lead came across Ryan's desk, requesting Veteran candidates who want to work at PDX Airport.
Achieving Paul's Goals
After several interviews with Quantum Aviation Services (a company located at PDX airport), Paul called Ryan to tell him the exciting news: he was offered a job as Ramp Agent, making $17.50 an hour, working 30 hours a week! Paul was so elated and relieved with the realization that he'd be able to pay his bills and eventually rent an apartment that he can call home.
Paul's Advice to Others
Paul's advice to other Veterans in his situation is to give Easterseals Oregon a chance. He said, "Easterseals' Veteran program will help you get back on your feet by providing great employment support services, so be patient."
Thanks for being patient and persistent throughout the process, Paul! We are indescribably proud of the strides you've made since we first met you.
---
If you or anyone you know is a US Military Veteran who is homeless or at risk of homelessness, the resources below could be helpful:
Our Military & Veteran Services
For more Stories of Hope like this one, follow us on Facebook and Instagram by clicking the logos below.
---
Contact Us | Locations | Donate