Mark Leveraged His Existing Skills to Escape Homelessness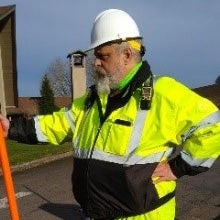 Mark is a 49 year-old US Navy Veteran that fell on hard financial times, due to the COVID-19 pandemic. This left him without stable housing or income, and he wasn't sure what would come next. After Mark found temporary housing at a local shelter, their staff referred him to our Homeless Veterans Reintegration Program (HVRP) for employment assistance.
Eager to Regain Traction
Mark repeatedly expressed that he was ready and eager to get back to work and rebuild his independence. He told his Employment Specialist that he was ready to make a substantial change in his life, because experiencing homelessness was not something that he wanted to repeat, and he knew that he had skills to offer an employer. While completing his individual employment plan, Mark expressed that he had previously been certified as a flagger, adding that it was a career he was interested in resuming.
Utilizing Mark's Existing Skills
Mark's Employment Specialist quickly contacted a local flagging certification trainer who - as a Veteran himself - has offered discounted pricing on his training for Veterans and has coordinated training for several of our Veteran participants. Once Mark successfully obtained his new certification, his Employment Specialist immediately referred him to A+ Flagging, where he interviewed and accepted a position.
Mark was able to start his new position just one month and two days after his initial enrollment with HVRP! As a new flagger with A+ Flagging, Mark was hired on at $16.50 per hour throughout his probation period; and after his probation period completed, his full-time wage was increased to $23.50 per hour!
Setting Mark Up for Success
Our HVRP staff assisted Mark with purchasing clothing for this position, and they were able to provide him with gas cards for transportation to his initial work sites that were located out of town. Mark has repeatedly expressed his appreciation both for his new job as well as for the assistance from Easterseals Oregon's Homeless Veterans Reintegration Program.
We are always honored and grateful to be a part of getting Veterans back on their feet and back to independence. Congratulations, Mark!
We'd like to recognize our partners at A+ Flagging for being a reliable source of training and employment for Veterans in need of employment at competetive wages, in the field of flagging. Your employment opportunities have made a substantial difference in the lives of several of our Veteran participants overcoming homelessness, over the last year. Thank you!
Visit our Stories of Hope page for more stories like this one, and follow us on Facebook and Instagram by clicking the logos below.
---
Contact Us Locations Partnerships