Cultivating Ivan's Desire to Help Others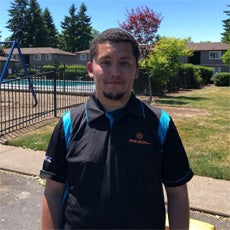 When Ivan came Easterseals Oregon, he knew that he wanted to work in a team environment where his strong work ethic, excellent people skills, and enthusiasm would be valued and make a difference in the lives of those around him. Through Ivan's hard work, his determination, and the assistance of the Connecting Communities Program staff of Easterseals Oregon, he was able to find that and more.
Empowering Ivan to Thrive
In the time the Connecting Communities Program (CCP) staff spent working alongside Ivan, various goals were set and met, and a deep connection was made. Ivan spent most of his time with the program working in two great internships that helped him grow his employment history and work ethic. Additionally, Ivan would regularly spend time practicing interviews with the CCP staff, and participated in various job search activities, as well as volunteer positions.
Ivan's Persistance Pays Off
Despite the challenges that arose along the way, Ivan never lost sight of his goal, and he pushed forward day by day. Thanks to Ivan's drive and the assistance he received from the CCP staff, Ivan found employment in a team oriented environment, where he is able to make a difference in the life of those around him when it is needed most.
Now that he is working at Regal Theaters Santiam, Ivan is proud that he makes a tangible difference in the lives of others by providing a safe opportunity to escape through entertainment. Especially now, people crave the feeling of getting back out into the world and resuming life as it once was, before the pandemic. At his new job, Ivan has the chance to help others get back to the normalcy they desire; not only by satisfying the crave for buttery popcorn and a crisp cool drink while they enjoy the next best cinematic motion picture, but also by helping provide a safe and secure place to do so.
Taking Pride in a Job Well-Done
Ivan and his team understand how important their role is in providing a cheerful and safe place to escape; so they take great pride in what they do, every day. Ivan couldn't think of a better place to be to help others, and he continues to be successful in his new career. Everyone on our team is so happy for Ivan's success, and we wish him nothing but the best!
Ivan is still employed at Regal Santiam, and he is loving the perks that come along with it.
During one of our check-ins, Ivan confidently reported, "I mean - who wouldn't love half priced concessions, and a few free movies a week?"
---
Learn more about Easterseals Oregon and the people we serve:
About the Connecting Communities Program
---
Contact Us | Locations | Donate