Grace Jenkins - a Senior Employment Success Story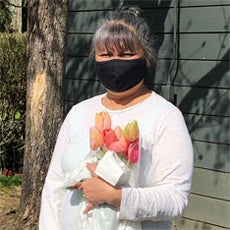 Introduction
Grace enrolled in the Easterseals Oregon Senior Community Service Employment Program (SCSEP) during the pandemic, in October of 2020. When Grace came to us for assistance, she and her husband were in transitional housing after struggling with homelessness due to a devastating medical set-back in their family. Grace made it clear immediately that she was open to explore any possibilities offered to her, and she took every opportunity available to work hard to sort out a new career path with support of our SCSEP team.
Building Employable Skills
We were able to place Grace at one of our Host Agencies where she could learn new employment skills and sharpen her existing ones via paid, on-the-job experience. Along with training at a Host Agency, Grace also took a Healthcare Essentials class; and after completing the class, she was accepted at the Health Careers Northwest (HCNW) program.
An Ideal Outcome
Grace's next steps led her to the CareerWork$Medical three-week program, which included meeting potential employers during the graduation process. This is when she was offered a full-time position as an Eligibility & Benefits Administrator with AFC Urgent Care. In addition to her new full-time job, Grace is currently working hard to complete her Health Careers Northwest (HCNW) program with a class for Medical Terminology.
This past month, our staff was also able to nominate Grace for a $1000 household assistance gift card through a community partner. This will help her with acquiring work clothing and other essentials while she stabilizes in her new position. Grace's success in our program has put her in the "retention" stage of the process, which is the ideal end goal for all of our SCSEP participants. Great work, Grace!
Grace's Recent Check-in
"I'm sending you an update on my time working with AFC Urgent Care. So far, I like the people I work with and the company. The staff is respectful to each other and very helpful. We have a weekly meeting to share information on any changes, celebrations of success, informed of one or two patient reviews, and reiterating the company's core values. I have had a full week of my schedule and I actually like it. I have been at AFC for three weeks now. The daily routine might seem repetitious at first but answering the calls does not make it so. It has been rewarding being able to help patients get the appointments they need for all manner of situations. If you know of anyone that is looking for a company to work for, I recommend AFC. I am still doing the Medical Terminology class… and the class curriculum has been fascinating."
"Great support from those that only want you to succeed is a blessing. God has blessed me with success and challenges to grow and do it with a happy heart to honor God." -Grace Jenkins
If you or anyone you know is a mature job-seeker (over the age of 55), please contact us here for more information on how we can help!
For more Stories of Hope like this one, follow us on Facebook and Instagram by clicking the logos below.
---
Contact Us Locations Partnerships Donate