Elijah's Journey (Part 2)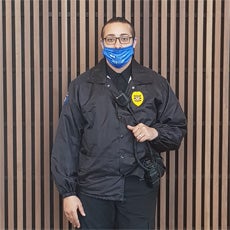 Before Elijah's enrollment in our Homeless Veterans Reintegration Program (HVRP) for employment assistance, he was enrolled in our Supportive Services for Veteran Families (SSVF) program for housing assistance. You can read that story by clicking the button below:
---
Introduction
Elijah would like those who read his story to know that, "I'm very grateful to have been able to get into contact with resources that can help me. I know others who don't have the opportunity that I have had, but my journey is not much different than a lot of other people."
Elijah is a US Army Veteran that was commissioned to the Army through an ROTC scholarship. He served in the Global War on Terror in Korea, working with Patriot Missiles and as a radar operator. In two short years, he received the National Defense Service Medal, the Global War on Terrorism Service medal, the Korean Defense Service Medal, and 2 ribbons.
Elijah came out of the Army and joined civilian life, in 2019. He worked for a short time, before he quit to move to Oregon so he could be closer to his girlfriend. Sadly, Elijah's plans were met with complications, and he ended up homeless and unemployed.
In Elijah's Own Words
"I had nowhere else to go. Luckily, I had my girlfriend and some other friends to help me here and there; but I still ended up staying in a shelter for about a month before I got enrolled in the Supportive Services for Veteran Families program. At that point, I was moved into a hotel, and things really slowed down from there. I was just waiting a majority of the time for bad news - little highlights along the way, but nothing worth getting happy about. With no income, it just kind of felt like no matter how much better things got - if I couldn't support myself - what was even the point? Fortunately, I got into my apartment after those couple of months in the hotel, and things finally started to look better.
So I had a change of heart and began to have a more positive outlook on my current circumstances. A month later, I got a job at DPI Security Agency. I guess if I was able to get back from being so low, there wasn't much I couldn't be able to do. So I kicked it into high gear and got my training done, got my licenses, and have been working since then. It all seems to be going back to normal, and so many great things are yet to come. If I didn't get this job - if I wasn't determined to get out of my situation - things would be a lot different; but thankfully, my life is back on track, my relationship is great, and I'll be able to get married in the summer and start to live a comfortable life."
Assistance Provided and Outcome
Elijah's story is a great example of the kind of partnership that works. Elijah and Maureen (his Employment Specialist) put together an Employment Action Plan with the goal of getting him into a security guard job. Maureen helped Elijah create a resume that fit security work, and they sent it to our partners at DePaul Industries (The DPI Group). The DPI Group is a company which has had a long relationship with Easterseals Oregon and the Homeless Veterans Rehabilitation Program (HVRP). They interviewed Elijah and got him into their training program within a month of Maureen and Elijah laying out his Action Plan. Our HVRP team paid for Elijah's necessary training and certifications for his new position; meanwhile, Elijah got himself to his job training via public transportation, and he worked hard to pass his training course. He started working full-time just over 40 days after creating his Action Plan with Maureen's help. Elijah now works as a Security Guard, making $15.00 per hour; and this is an in-demand job, so Elijah can expect his employment to be secure, allowing him to build a stable and comfortable future.
---
For more Stories of Hope like this one, visit our Stories of Hope page, and follow us on Facebook and Instagram by clicking the logos below.
---
Contact Us Locations Partnerships