Cultivating Maggie's Career Shift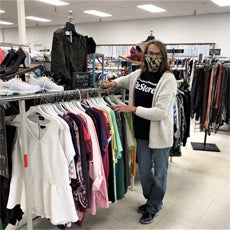 This success story comes from our Senior Community Service Employment Program (SCSEP), which helps impoverished seniors (age 55+) gain updated, employable skills, through paid internships and other career assistance services.

Learn More About SCSEP Here

Meeting Maggie
Maggie moved to Oregon just a few years before being referred to our Senior Community Service Employment Program (SCSEP), in August of 2020. After 20 years of robust work in the healthcare field as a Licensed Practical Nurse (LPN), she could no longer manage the work due to ongoing physical limitations. This left her feeling isolated, surviving on the minimal income she qualified for through social security, and struggling to pay for basic necessities.
Maggie reached out to Habitat for Humanity, in hopes of volunteering with them so she could be an active member in the community and learn new skills, while she continued to seek employment. Habitat for Humanity is a partner of Easterseals Oregon, so they immediately reached out to our team when they heard Maggie's story. This led to Maggie's referral into our program.
Building a Stable Foundation
Our SCSEP team was instrumental in enabling Maggie to rethink and broaden her views on career opportunities. Maggie's Employment Specialist (Christine) helped her establish an individual employment plan for the upcoming year. They worked together to lay out attainable and measurable goals, to build her confidence and create opportunities for personal growth road to employment and independence.
During the early stages of Maggie's journey with our program, we were able to provide a stipend to help her pay bills and stop borrowing money for rent. This step toward financial independence is crucial when helping our participants regain direction and self-confidence, ultimately empowering them to become fully independent again. Additionally, the financial assistance our team provided was able to help Maggie purchase a used car, so she could pursue employment opportunities in a wider radius from her home.
Placement & Skill-Development
After laying a stable foundation and creating an actionable plan with our team's support, Maggie was successfully placed in a part-time paid internship with Habitat for Humanity. Her IEP (Individual Employment Plan) focused on learning retail customer service, researching & pricing clothes, operating a point of sale (POS) system, and money handling; so this opportunity was perfect, because it combined her actionable goals with her passion for community engagement.
During her placement so far, Maggie has shown that she has acquired or increased the following skills:
Computer skills: she learned how to do comparative online research when pricing clothing
Customer service: She was able to use her transferable people skills to build customer rapport and solve customer issues
Attention to detail: she earned to operate the POS system, paying close attention to accuracy in cash, credit, and debit transactions.

The end goal of our Senior Community Service Employment Program (SCSEP) is to cultivate growth and build transferable skills while earning income, so participants like Maggie can find permanent employment and exit our program. I'm eagerly awaiting the opportunity to report that Maggie has utilized her new skills to find long-term employment. Be sure to check back for updates on Maggie's journey!
---
To read more about our Senior Community Service Employment Program (SCSEP), click here.
You can see more stories like this one by visiting our Stories of Hope page, here. You can also follow us on social media, by clicking the logos, below:
---
Contact Us | Locations | Donate | Stories of Hope